Evans Funeral Home
"Compassionate Funeral Service"
Carrington and New Rockford, North Dakota
701.652.3003 or 701.947.2911
Secondary Number ~ 701.650.9937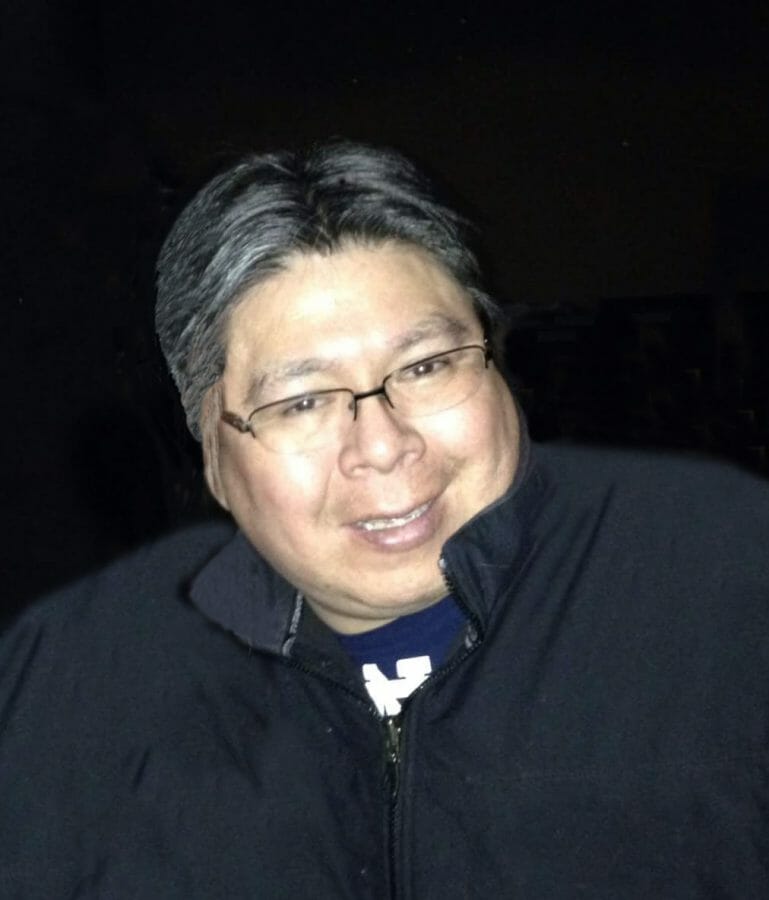 John C. Good Iron was the beloved son of Delwayne "Brooks" Good Iron and Veronica (Yellow Wolf) Good Iron. He was born in Watford City, ND, on April 25, 1970. He began his journey to the Spirit World on August 9, 2018, peacefully in his home surrounded by his loving family, friends, and his dog Skippy.
John attended Mandaree Public School in Mandaree, ND, and briefly attended Standing Rock Public School. He then graduated from Four Winds High School Class of 1988 in Fort Totten, ND. He attended the University of North Dakota and Cankdeska Cikana Community College in Fort Totten, ND (Little Hoop).
John and his beloved parents moved to the Spirit Lake Nation and eventually established their home in St. Michaels, ND. John worked in his early years at Sioux Manufacturing Corporation in Fort Totten, Cankdeska Cikana Community College in Fort Totten, Spirit Lake Casino in St. Michael, Service Master in Devils Lake, Four Winds High School in Fort Totten, and then started his position at the Spirit Lake Ambulance as an EMS Driver. Due to health he retired to focus on his family and friends.
When John was younger he traveled the country going to pow wows with his family and won several championships. He was married to the love of his life, Alma Lawrence, together they enjoyed traveling, going to concerts and music festivals, camping, and spending time with their kids and grandkids. He enjoyed Xbox gaming, going to car shows, going to movies, fixing up his cars, and he loved Ford Mustangs and Notre Dame Football. He also enjoyed going to the race track with his best friend Cliff Reeves.
John will be missed by many for his caring kind heart and his great sense of humor and jokes.
John is preceded in death by his parents Brooks & Veronica Good Iron, paternal grandparents Bruno & Dorothy Good Iron, maternal grandparents John & Thelma Yellow Wolf, many aunts, uncles, and cousins.
John will be laid to rest beside his mother at the Yellow Wolf Family Plot in Mandaree, ND.
John is survived by his loving wife Alma, of St. Michaels, ND. Daughters Johnna (Ashton) Good Iron of St. Michael, ND and Elisha (Mitchell) Poulsen, Sheyenne, ND. Sons Kenneth Baker Jr., Kyle Lawrence and Douglas (Lupe) Lawrence all of St. Michaels, ND, Joseph (Marnie) Lawrence of New Rockford, ND, and Sammy Lawrence of Carlsbad, New Mexico. Sister Delmaria "Joy" Good Iron of Devils Lake, ND, and nieces Delrita "Rose" Good Iron of Fort Totten, ND, Sarah LaCroix, Devils Lake, ND, and Skyla Felix of Colorado. Aunts Mary "YW" Gachupin, Martha Birdbear both of Mandaree, ND, Victoria Tarrant of North Arlington, New Jersey, Frances Wolf of Billings, Montana, Kathleen Charles of Aberdeen, Washington, Darlene "Dolly" Good Iron of Las Vegas, NV and Joan Church of Rapid City, SD. Uncles Dale (Hazel) Good Iron of New Town, ND, and Les (Sharissa) Yellow Wolf of Bismarck, ND. His 11 grandchildren, Carter, Dakota, Stephen, Brinlee, Nakomis, Aubree, Kyler, Lucas, Jocee, Joseph, Jr. and Bralyn. Godchildren Riley Lawrence, Dakota McKay, and Paul John Lawrence, his dog Skippy, Adopted brothers and sisters James Tomahawk, Dawnette Nielson, Jolene, Andrea, Lolita, & AJ Redman, Jackie Tsonetoky, Jason GoodBlanket, Eric Anquoe, Dave Campbell, Kim Chaske and Dennis Pashe.
Wake Service will be held Tuesday, from 5:00-7:00PM with a Rosary Service at 7:00PM all at St. Michael Recreation Center, St. Michael, ND
Family and Friends wishing to join the procession from New Rockford to St. Michael may gather on the St. Jerome's road prior to 4:30PM.
Mass of Christian Burial will be held Wednesday, August 15, 2018, at 10:00AM in St. Michael's Catholic Church, St. Michael, ND.
Burial will be held at the Yellow Wolf Cemetery rural Mandaree, North Dakota.
Senior Pallbearer: OnaLee Johnson
Active Pallbearers for wake service: Cliff  Reeves, Kenny Baker Sr., Everick Romero, Kevin Brown, Kenny Smith, Ronald Wilkie, Jr., Joseph Lawrence, Gerald (Pat) Lawrence
Active Pallbearers for funeral service: Ashton Thompson, Mitchell Poulsen, Michael Good Iron, Barney Romero, Samuel Cloud, Dakota McKay, Samuel Lawrence, Kyle Lawrence
Honorary Pallbearers: Bob & Euretta McKay and Family, Alice Davis & Lonna Jo, Dan Cavanaugh, Nate Romero, Douglas Lawrence, Harry (Triple H) Hopkins, Palmer Hopkins, Paul & Robin Lawrence, Jason & Collette Thompson, Chaz Reeves, Soloman Sherman, Millie McKay & Family, Jason Vallier, Mark Restemayer, Larry & LaVerne Sullivan, Marlys Jetty, Julie King, Dillon Herman, Carol (Nibbs) Brown II, George Alberts, Terry & Sherry Baker, Sharon Keplin, Debbie Keplin Martin, LeKiplin Family, Keith Drake, Carla Wilkie, Ron & RoseAnn Trottier, Pat Wanna & Family, Kate Johnson, Patricia WalkingEagle, Demus McDonald & Family, Tony & Vina McDonald & Family, Lisa Chaske, James Tomahawk, Dawnette Nielsen, Joseph, Jr. "Cowboy"   & Jeanette Lawrence, Darrell Lawrence, Gerald "Pat" & Wendy Lawrence & Family, Marie Martin, Frenchie Brown, Wyatt Jetty, Michelle Thomas & Family, Kathy & Rodney Smith, Denny Smith, Rebecca Coste, Myra Pearson, Curtis & Kristi Black, Ken Larson, Cheryl Longie, Gary Longie, Glen Abraham, Debbie Cavanaugh, Tami Vulik, Four Winds High School Class of 1988, and Xbox gaming friends.  If we have forgotten anyone, it was not intentional.  We are doing the best we can under the circumstances.
Condolences are reviewed by staff.