Evans Funeral Home
"Compassionate Funeral Service"
Carrington and New Rockford, North Dakota
701.652.3003 or 701.947.2911
Secondary Number ~ 701.650.9937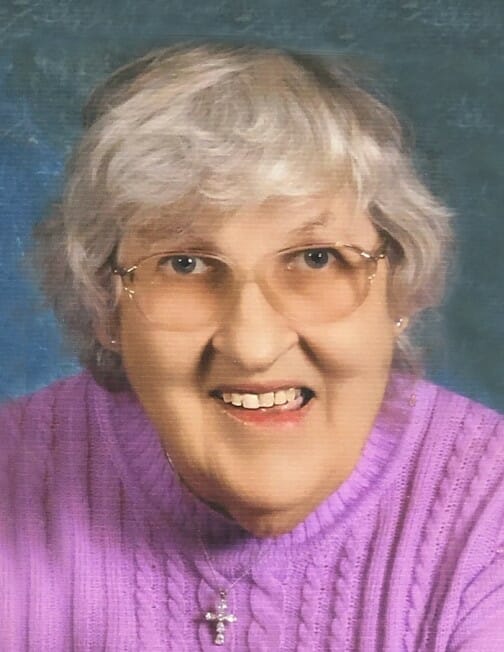 Iona "Ina" Kay Evelyn Johnson, age 81, of Fargo, ND, formerly Ellendale & Sheyenne, ND, passed away Saturday, December 26, 2020.
Iona was born to the late Lucas George Plancich I and Effie (McKay) Plancich on February 20, 1939 in Dockton, WA. She graduated from Vashon Island (WA) High School in 1958. She met and married the late Lyle Duane Duda who was stationed at Nike Airbase on Vashon Island on April 11, 1959. Iona & Lyle raised five children in the New Rockford-Sheyenne, ND area. She was a stay-at-home mom and worked as a cook at the New Rockford Café.
Iona married her current husband, Raymond Lee Johnson, on April 27, 1996 at Ellendale, ND. They lived together in Ellendale until September 27, 2019 when she moved to Bethany Retirement Home in Fargo.
She is survived by her husband Raymond L Johnson of Ellendale, ND; her five children: Phyllis (Jeffrey) Parsons of Dickinson, ND, Linda (Jeffery) Wobbema of Minot, ND; Patti (Richard) Eisenzimmer of Minot, Duane (Annette) Duda of New Rockford, Dawn (Charles) Putney of West Fargo, ND; her two step-children: Tyson (Melissa) Johnson of Ellendale, ND, Myla Jenkins of Ellendale, ND; her 13 grandchildren: Jesse & Joel Wobbema, Amanda (Ryan) & Shaun (Libby) Parsons, Kori Duda, Brittney & Brandi Eisenzimmer, Kaitlyn & Aidan Putney, Ashley & Kelsie Jenkins, Kyle & Kole Johnson; 5 great-grandchildren; three brothers, Gordon, Alan "Swede" and Russell "Russ" Plancich and one sister Eleanor "Dee Dee" Arnold.
Iona is preceded in death by her first husband Lyle Duda, her grandson Levi Duda, her parents Lucas & Effie Plancich, brothers Lucas II, Robert "Bob", Richard "Dick" Mitchell "Mike" Victor "Jerry" Plancich; and by a sister Vivian Fields.
Iona was proud of her family and leaves behind nothing but beautiful memories.
Visitation will be Saturday, February 6, 2021 from 10:00AM – 2:00PM, followed by a Funeral Service at 2:00PM all at Evans Funeral Home, New Rockford.
Burial will be at the Prairie Home Cemetery.
Condolences are reviewed by staff.