Evans Funeral Home
"Compassionate Funeral Service"
Carrington and New Rockford, North Dakota
701.652.3003 or 701.947.2911
Secondary Number ~ 701.650.9937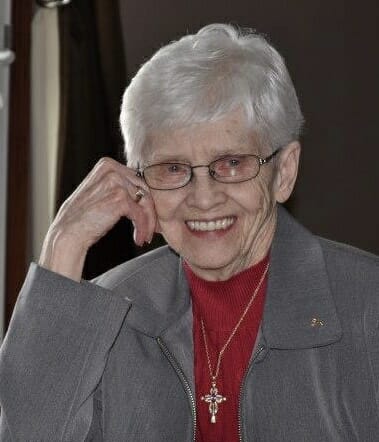 Sylvia B. Kjos, New Rockford, ND was called home September 20, 2019 at Golden Acres Manor, Carrington, ND.
Sylvia B. Kjos was born October 7, 1925 in New Rockford, ND to Ole and Anna (Kvien) Kjos. She attended school in New Rockford, graduating in the class of 1947.
Sylvia was a lifetime member of the First Lutheran Church in New Rockford, ND. Sylvia was baptized December 25, 1925, and later confirmed in Christ on May 24, 1942. Sylvia was a devoted follower of the Lord and found peace in his love.
After high school, Sylvia worked for Swift and Company for eighteen years. After her employment with Swift, she worked at the Rockford Theatre for a couple of years, and then at Busy Bee for seven years.
Sylvia's interest in photography started when she received a camera for Christmas one year. She had a given talent and soon found herself photographing weddings, anniversaries, family and senior pictures. Her love for photography led to self-employment for twelve years. In 1975, Sylvia won 6th place in a National Photo Contest at Beltsville, Maryland. In 1988, she entered the North Dakota Centennial Juried Art Exhibition in Bismarck. Sylvia received Honorable Mention for her piece she titled "Frosty Morn".
Sylvia went to work at the Senior Citizens Center in New Rockford after her self-employment. In 2013, at the age of 88 she retired from working at the Center, but you could still often find her there.
Sylvia leaves her loving memories to be cherished by; nephews, Craig (Robin) Kjos, Fargo, ND; Norris (Becky) Kjos, New Rockford, ND; nieces, Sandra Olund, Fargo, ND; Cynthia Kjos, Detroit Lakes, MN; Candice (Ron) Jarrett, Newhall, IA; and Jeanine Baker, Pleasant Grove, UT; numerous great nieces and nephews, great-great nieces and nephews, and a few great-great-great nieces and nephews.
Sylvia was preceded in death by her parents; Ole T. Kjos, Anna (Kvien) Kjos; brother, Thomas B. Kjos and sister Marlys A. Kjos; nephew, Ordell T. Kjos; nephew-in-law, Lynn W. Olund; nieces, Renae L. Kjos and Pamela (Kjos) Preminger.
Visitation will begin Monday, September 23, 2019 from 9:00AM – 7:00PM, with a Prayer Service at 7:00PM, all in Evans Funeral Home, New Rockford, ND.
Funeral Service will be held Tuesday, September 24, 2019, at 11:00AM in First Lutheran Church, New Rockford, ND.
Burial will be held at the Prairie Home Cemetery, New Rockford, ND.
Condolences are reviewed by staff.