Evans Funeral Home
"Compassionate Funeral Service"
Carrington and New Rockford, North Dakota
701.652.3003 or 701.947.2911
Secondary Number ~ 701.650.9937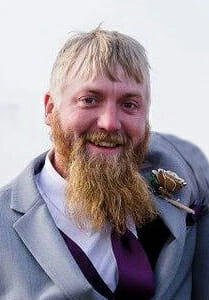 Brandon Jerome Kolstad, age 29, passed away on Friday, March 1, 2019, near Sheyenne, ND.
Brandon Kolstad was born, July 8, 1989, in Devils Lake, ND, to Greg and Darlene (Peterson) Kolstad.  He was baptized and confirmed at First Lutheran Church, Sheyenne, ND. Brandon graduated from New Rockford-Sheyenne High School in May, 2008.  He joined the ND National Guard in January, 2009 and served until January, 2012.  He worked in the oil fields with a fracking crew.  He attended Guide & Outfitters School in Montana in 2010 and worked as a guide in Alaska, Wyoming and Colorado.  In 2013 he started Lizard Head Outfitters with his dad in Dolores, CO.  After the hunting season was over he would come back to ND to trap, hunt and taxidermy, and was always looking for a coyote.
On October 2, 2017, he married the love of his life, Sarah Tulving in Silverton, CO on top of a mountain.  They made their home in Sheyenne, ND.  Brandon enjoyed sharing his love of the outdoors with Thomas and Sarah.  Brandon liked horseback riding, sledding, kayaking, shooting guns, shed hunting and endless hours of playing with the dogs.  Brandon was an avid sportsman, who loved his family.  He had a great sense of humor, loved homemade dill pickles and Fritz's pickled fish.  Brandon had started a hobby of forging his own knives.  Brandon was currently working for Delta Waterfowl and partnering with his dad in taxidermy business and whitetail guiding. 
Brandon his survived by his wife, Sarah and step son, Thomas; parents, Greg and Darlene Kolstad; sister, Brittany (Andrew Hokanson); nephews, Blaine, August and Graham; grandmother, Norma Kolstad; aunts and uncles, Donna (Kolstad) Schaefer, Brenda and Greg Rue, Colleen and Gordon Benson and Lisa and Allen Howard.
He is preceded in death by his grandparents, Paddy and Jeanette Peterson and grandfather, Donald Kolstad.
Visitation:  will be Thursday, March 7, 2019 from 9:00AM-5:00PM,  in Evans Funeral Home, New Rockford, ND with a Prayer Service at 7:00PM at First Lutheran Church, Sheyenne, ND.
Funeral Service:  will be held  Friday, March 8, 2019, at 11:00AM in New Rockford-Sheyenne High School, New Rockford, ND.
Burial:  will be held at the Riverside Cemetery, Sheyenne, ND
Condolences are reviewed by staff.