Evans Funeral Home
"Compassionate Funeral Service"
Carrington and New Rockford, North Dakota
701.652.3003 or 701.947.2911
Secondary Number ~ 701.650.9937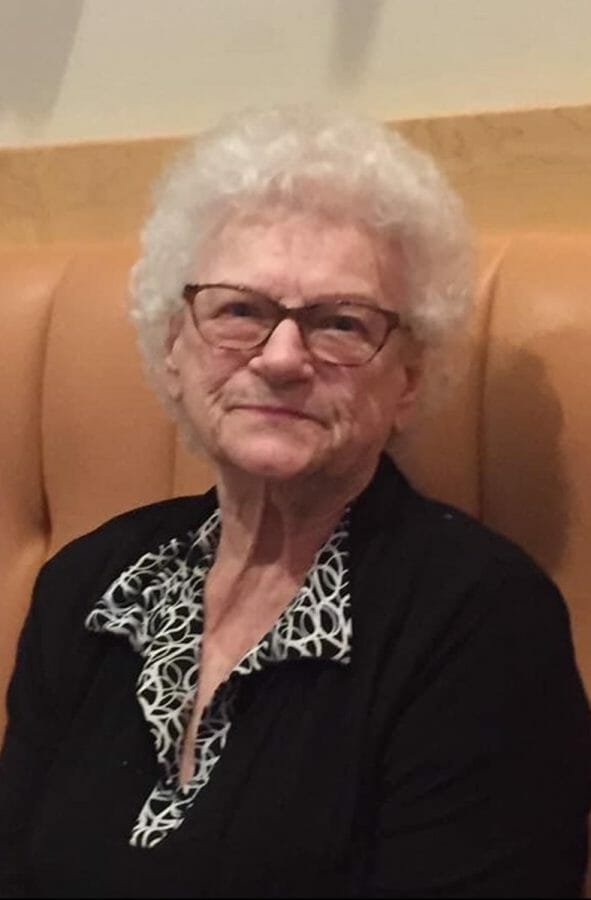 Patricia "Pat" Loretta Krueger, 90, of New Rockford, ND passed away January 20, 2022, in her home with her family by her side.
Patricia Loretta Lies was born April 15, 1931, in New Rockford, ND, to Hubert Anton Sr. and Mary (Seiler) Lies, the second child of eleven children. She grew up on the farm southeast of New Rockford. She attended eight years of school at Superior #3, and four years at St. James. After graduating at the age of 16 she moved to Fargo to work for DeLendrecie's during the day. She started out in the make-up department before being moved to billing because her boss thought she was the only one who capable of doing the job. During this time, she worked at The Fargo Theater at night. In 1951, she decided to move out to California, to work for Douglas Aircraft during the day, and Wilshire Theater at night. She stayed in California until 1955, when her father passed away. She felt she needed to move back home to help with her younger siblings. Upon moving back, she managed the drive-in movie theater. She would take the younger sisters to help, with the benefit that they would get to see the show.  She worked as Deputy Register of Deeds under Albert Zimmerman until taking a position at the lawyer's office across the street from the courthouse, along with numerous other jobs.
On December 3, 1965, Pat married LeRoy Krueger at St. John's Church in New Rockford.  They made their home in New Rockford along with daughter Mary Jo. Together they owned and operated Wonder Lanes Café until 1975 when they closed the café down but kept the bowling alley going until COVID hit. Shortly after they got married, Pat was not happy to be home weekends while LeRoy went and played in a band at dances. So, she took it upon herself to learn to play the drums.  This then lead Pat joining a few different bands through the years, where she would play and sing for dances, at steam threshers, and nursing homes. Pat also enjoyed her weekly board meetings with some of her closest friends. She was an avid gardener with a grape vine growing right off her deck (one of her favorite places), a magnificent cook known to all for her brownies, a devoted catholic, and a selfless caretaker taking care of any one of her family members who were shut in.
Shortly after her 90th birthday Pat had suffered a major setback with her heart. She came home from the hospital on hospice on May 5, 2021.  Mary Jo decided that she was going to move in and help with all the cares for her the way Pat always wanted it. The grandchildren would come home on weekends to help with care and to visit.
Pat is survived by her husband, LeRoy, of 56 years, daughter Mary Jo (Clark) Wallace; 4 grandchildren: Xanthe (Jerry) Theis, Jenna Anglebrandt, Shane Wallace, and Taryn Wallace; 8 great-grandchild: Zander Anglebrandt, Ryder Bracken, Addison Wallace, Andrew Storstad, Kylee Theis, Khloe Wallace, Bryce Theis, and Easton Wallace; 6 Sisters: Ramona Klocke, Shirley (John) Mayer, JoAnn (Barry) McNett, Judy Bartlett, Veronica Lively, and Susan Vanderhyde; 1 Brother: Robert (Marjorie) Lies; 1 Sister-in -Law: Mary Ann Lies; 2 Brother-in-Law: Ronnie (Dorothy) Krueger, Vern Krueger; and many nieces, nephews, and cousins
She is preceded in death by her parents, and 3 brothers: Dean "Jack" Lies, Hubert "Bud" Lies, and Mayo Lies.
Pat's Visitation will be Tuesday, January 25, 2022 from Noon – 5:00PM at Evans Funeral Home and continuing from 6:00PM – 6:30PM at the church, followed by a Rosary at 6:30PM and Vigil Service at 7:00PM all at St. John's Catholic Church, New Rockford.
A Mass of Christian Burial will be held Wednesday, January 26, 2022 at 10:30AM at St. John's Catholic Church, New Rockford.
Her Burial will be at the St. John's Catholic Cemetery, New Rockford.
Condolences are reviewed by staff.