Evans Funeral Home
"Compassionate Funeral Service"
Carrington and New Rockford, North Dakota
701.652.3003 or 701.947.2911
Secondary Number ~ 701.650.9937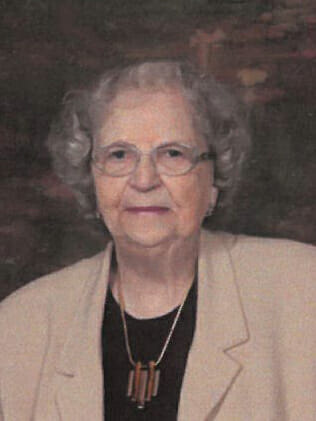 Heaven gained another much-loved soul, Evanda Viola Lange, 93, born November 17,1927 and passed away December 17, 2020 with close family by her side at Sanford Health, Fargo ND.
Evanda Stuckle was born to John and Elizabeth (Donat) Stuckle in Wishek, ND.  On July 3, 1948 Evanda married Reinhart Lange and settled on the farm west of Carrington.  Shopping and business were done in Carrington but with the county road running between the barn and the house, the children attended school in Sykeston.  The couple had four children.  Evanda was very active with farm life, gardening, baking and the family would pick chokecherries.  She made the best chokecherry jam.  Evanda enjoyed having the children in 4-H projects, which included, sewing, chickens and baking.  All gathered many blue ribbons.  She was also active with school PTA, Trinity Lutheran Church committees and circle, gardening club and Dover Club.  She was an excellent accountant, keeping track of the farm records and completing a few neighbor's records and taxes also.  She loved reading and crossword puzzles.  A big project Evanda and Reinhart did with the children's help was building their family home in the 60's, block by block even building the cupboards.  The home is still standing today and recently renovated.  The couple left the farm in 1985, moving into Carrington where she has resided since.
She is survived by her son Alan Lange, daughters Carol (Bill) Schlenvogt, Kaye Cossette and Sandy (Mike) Donahue, 9 grandchildren, 16 great grandchildren and 1 great great grandchild.
Evanda was preceded in death by her husband Reinhart Lange in 1998, grandchild Amber Cossette and great granddaughter Samara Santos, 4 brothers and 7 sisters.
Graveside Service will be held Sunday, December 20, 2020 at 1:00PM at Carrington Cemetery.
Condolences are reviewed by staff.