Evans Funeral Home
"Compassionate Funeral Service"
Carrington and New Rockford, North Dakota
701.652.3003 or 701.947.2911
Secondary Number ~ 701.650.9937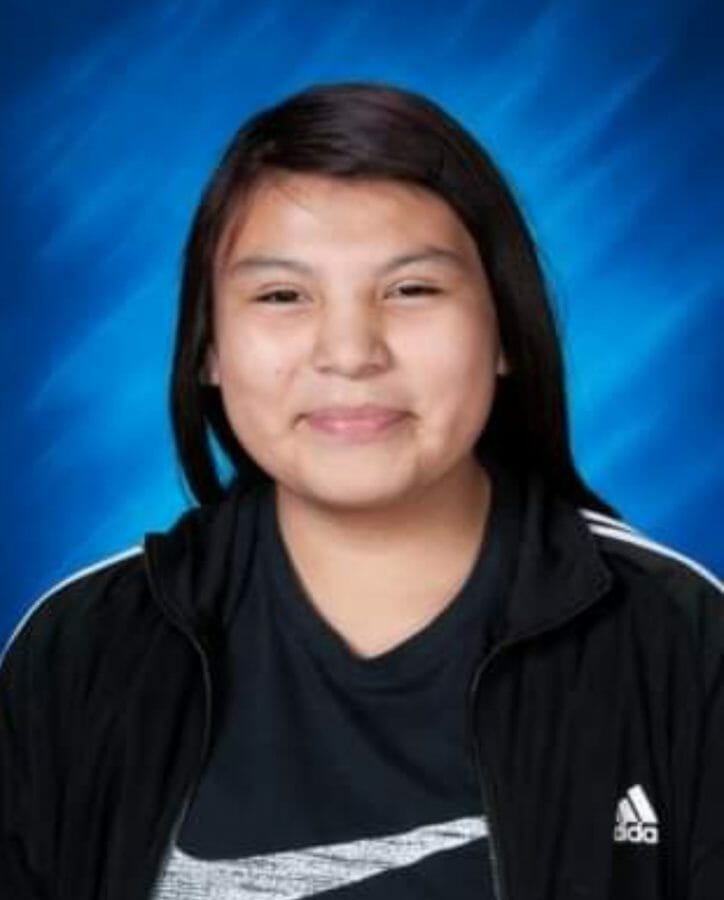 Heaven Leigh Longie, 14, of Fort Totten passed away Saturday, January 25, 2020 at her home in Fort Totten, ND.
Heaven was born August 18, 2005 in Devils Lake, North Dakota, the daughter of Ashley Ross-Feather & Alfred Longie Jr.  She grew up in Fort Totten and was a seventh grader at Four Winds Middle School.
Heaven enjoyed arts & crafts, playing basketball, hanging with her friends, watching movies and listening to music.  She was a very loving and caring person, who put others needs ahead of her own.  Heaven will be missed by her little dog, Cloe, mom/auntie, Lisa Burdick, Mindy Delorme and Kershin Jackson.
Heaven is survived by her parents, sisters and brothers, Mindy L. Delorme, Lance "Mahto" Ross, Sierrah Ross, Rachel Feather, Richard Feather, Mariah Mindt, Mercedes Hill, Whitney Hill, Larissa Longie, Kaylee Hill, Jonathan Hill, Ryan Hill; aunts and uncles, Jaime Burdick Sr., Crystal McKay, Ashley (Arthur) McKay, Althea Longie and Welder Christianson; nieces and nephews, Kershin Jackson, Ameriah Burdick, Athena & Aundre Acevedo, Ashtynn Burdick, Jax Burdick, Kieran Ross, Vaya Ross, Cole Ross, Harleah Ross, Tate Ross, Zyleigh Ross, Kassandra Ross, Richard Ross, Cataliya Ross, Nautica Ross, Landyn Ross, Kynd Ross, Layla Ross, and Livia Ross; cousins, Gavin Little, Skyler Chopper, Paris Chopper, and Abriel Chopper, Tiffany (Robert) Ross, Shayna (Jaylan) Ross, Chantel (Rece) Ross, Wyatt Ross, LeAnna Ross, Lachelle Ross, Claudia Ross, Krista Ross, Rory Ross Jr., Cameron Ross, Alexis Demarce and Kirstyn Demarce.
She was preceded in death by her grandmothers, Paula Goulet and Claudette Ross, grandfather, Solomon F. Sherman, and other relatives.
A special thank you to Erica Young, Stephanie Ignacio, Kim Three Irons & family, Leslie Yankton, Roger & Andrea Ironshield, Kim Cavanaugh, Misty Davis, Cynthia Azure, Bennett Mudgett, Evelyn Cavanaugh, Spirit Lake EMT's, the Fort Totten Police Department, and Crow Hill Staff for their assistance at this difficult time.
Wake will begin Sunday at 4:00PM followed by a Rosary at 8:00PM all at Crow Hill Wellness Center, Fort Totten.
 Friends wishing to join the procession from New Rockford to Fort Totten may gather on the St. Jerome's road, Fort Totten, prior to 3:45PM.
Funeral Service will be held Monday, February 3rd, at 10:00AM at Crow Hill Wellness Center, Fort Totten.
Burial will be at the St. Jerome's Catholic Cemetery, rural Fort Totten.
Condolences are reviewed by staff.