Evans Funeral Home
"Compassionate Funeral Service"
Carrington and New Rockford, North Dakota
701.652.3003 or 701.947.2911
Secondary Number ~ 701.650.9937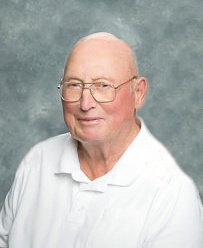 Gerald Lyle Lutman, 86, of Carrington, ND, passed away after a long battle with cancer on January 21, 2019, in Phoenix, AZ with family at his side.
Gerald was born August 4, 1932, in Edmunds, ND, to Charles and Mamie (Rue) Lutman. He enlisted in the Navy the summer of 1950 and served in the Korean War during his 4 years. Gerald met Lois Presser in April, 1955, at a local dance and the two became one August 28, 1956.
In 1956, Gerald began working with Donny Jensen in the house moving business, only later to buy him out in 1963 and rename the business to Carrington House Moving, he semi-retired in 1997; however, Gerald could be found out at Carrington House Moving on a daily basis until 2014, due to his health.
His hobbies included hunting, fishing, traveling the world, gardening, farming and ranching. He enjoyed spending time with his family, especially the yearly family reunions on his childhood farm. He was an avid player of pinochle and cribbage, often times claiming he only lost because someone cheated. He had served in the local chapter of the VFW, the Military Order of the Cootie, the American Legion, and the Trinity Lutheran Church, where he was an active member.
He is survived by his wife, Lois; his ten children, Lyle (Deb) Lutman, Langdon, ND, Lynell Lutman, Minot, ND, David (Julie) Lutman, Carrington, ND, Donene (Yabo) Gjellstad, Velva, ND, Pamela Meyer, Arcadia, CA, Paul Lutman, Vista, CA, Janyce (Brad) Feist, Velva, ND, Jenifer (Homero) Rivas, Dubai, UAE, Mark Lutman, Ft Collins, CO, Michael Lutman, Scottsdale, AZ; nineteen grandchildren; twenty-seven great-grandchildren; three sisters, LaVonne Budd, Joan Chaney, and Jenny Rundblad; two brothers Neil and Russell Lutman; numerous nieces, nephews and cousins.
He is preceded in death by his parents, Charles and Mamie; brothers, Merle, Darrell, Roger, and Charles; sisters, Phyllis and Marion and son-in-law, Scott Meyer.
In lieu of flowers, please make donations to either the Carrington Trinity Lutheran Church or the Roger Maris Cancer Center in Fargo.
Visitation will be Monday, 9:00AM-5:00PM at Evans Funeral Home, Carrington and continue from 6:00PM-7:00PM followed by a Prayer Service at Trinity Lutheran Church, Carrington.
Funeral Service will be held Tuesday, January 29, 2019 at 10:30AM at Trinity Lutheran Church, Carrington.
Burial will be at the Carrington Cemetery.
Condolences are reviewed by staff.