Evans Funeral Home
"Compassionate Funeral Service"
Carrington and New Rockford, North Dakota
701.652.3003 or 701.947.2911
Secondary Number ~ 701.650.9937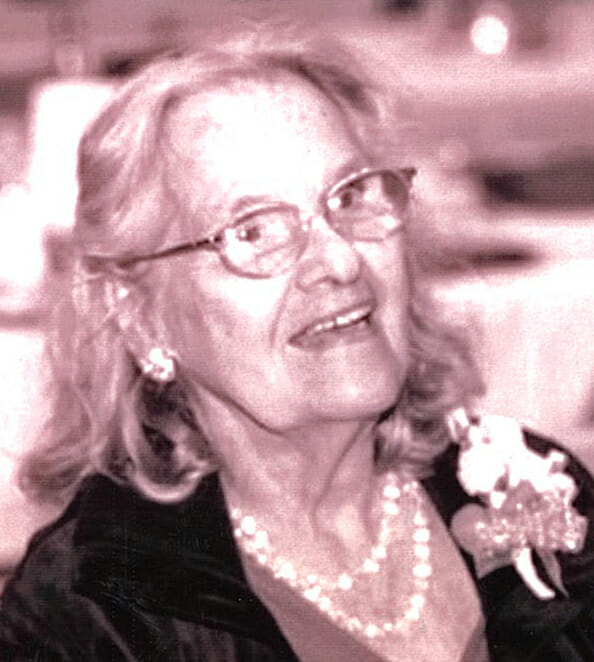 Mary Phyllis "Phyllis" Umstot Mackrill of Edgewood Senior Living, Jamestown, ND and formerly of Annandale, VA, passed away February 21, 2021 at the age of 99.  She was being cared for by Hospice following a fall which caused multiple fractures and a brain bleed.
Phyllis was born on October 25, 1921 to Harry, Sr. and Katherine Umstot of Cumberland, MD. She spent her childhood in Cumberland as well as in Keyser, WV on the opposite side of the mountain. She attended and graduated from the Ursuline Academy an all girls Catholic school in 1941.  While growing up, she learned to work in her parents' grocery store which she helped manage throughout high school.
Phyllis' father passed away while she and her brother, Harry Jr. and sister Elvera were still young children. Although her father's death created many hardships for the family, they persevered and maintained the grocery store above which they made their home. Phyllis had an otherwise very happy childhood. She developed many skills, hobbies, and talents including piano, tap and ballet dance, and became exceptionally good at drawing and oil painting.
During WWII Phyllis worked as an inspector at two local defense plants: one where life rafts were produced for the US Navy, as well as in an ammunition factory on an .50 Browning production line.  During this time Phyllis met the love of her life at a USO dance. Judson F. Mackrill was a young Navy radio operator on leave between Atlantic mission voyages. They married on December 2, 1944 in New York City at St. Patrick's Cathedral.
Phyllis and Judson raised two sons, Dennis and Gary. They made their home in Annandale, VA where Phyllis made a beautiful home for the family while Judson worked for the Department of the Army and the Pentagon. Phyllis spent much of her free time volunteering at her sons' school, Glen Forest Elementary, working as a cafeteria cashier. She was also a member of the Seaton Guild through the Catholic Church. This was an organization financially supporting unwed mothers and their children.
Phyllis was an avid scrapbooker, collecting numerous magazine and newspaper stories relating to WWII up through the 1990's. She loved to paint, collect antiques and porcelain figurines, and upon retirement, she loved to travel.  The couple traveled to all 50 states, mostly in their camper. They spent several winters at Lake Okeechobee, FL and one summer drove all over Alaska. However, most summers were spent in North Dakota enjoying time with their son Gary, daughter-in-law Linda, and grandchildren.
Virginia was always home though. Phyllis dearly loved her home and yard. She especially enjoyed her flowers and dozens of dogwood trees and azalea bushes. Cardinals were her absolute favorite bird and she had names for most which frequented their yard.
Phyllis's family friends and acquaintances can take solace in knowing that after many years of declining health, she is now at peace with God. She will be buried beside her beloved husband of over 73 years at Quantico National Cemetery, VA.
She was preceded in death by her parents, brother Harry Umstott, sister Elvera Ruby, son Dennis Mackrill, and husband Judson. She is survived by son Gary Mackrill and wife Linda, Cathay, ND; grandson Judson D. Mackrill (Kimberly) Mt. Pleasant, SC; granddaughter Melinda, Cathay, ND; granddaughter Amanda (Thomas) Herron, Rock Port, MO; as well as her beloved great-grandchildren: Gideon, Piper, Greer, Simeon, Belle, & Truman.
Memorials are suggested to go to the Alzheimer's Association and ND Right to Life.
Her Visitation will be Monday, March 1, 2021, from 9:00AM – 5:00PM, with family present from 4:00PM – 5:00PM at Evans Funeral Home, Carrington.
Her Funeral Service will be held Thursday, March 11, 2021, at 11:30AM at St. Mark Catholic Church, Vienna, VA.
Her Burial will be Thursday, March 11, 2021, at 2:00PM at the Quantico National Cemetery, Quantico, VA.
Condolences are reviewed by staff.