Evans Funeral Home
"Compassionate Funeral Service"
Carrington and New Rockford, North Dakota
701.652.3003 or 701.947.2911
Secondary Number ~ 701.650.9937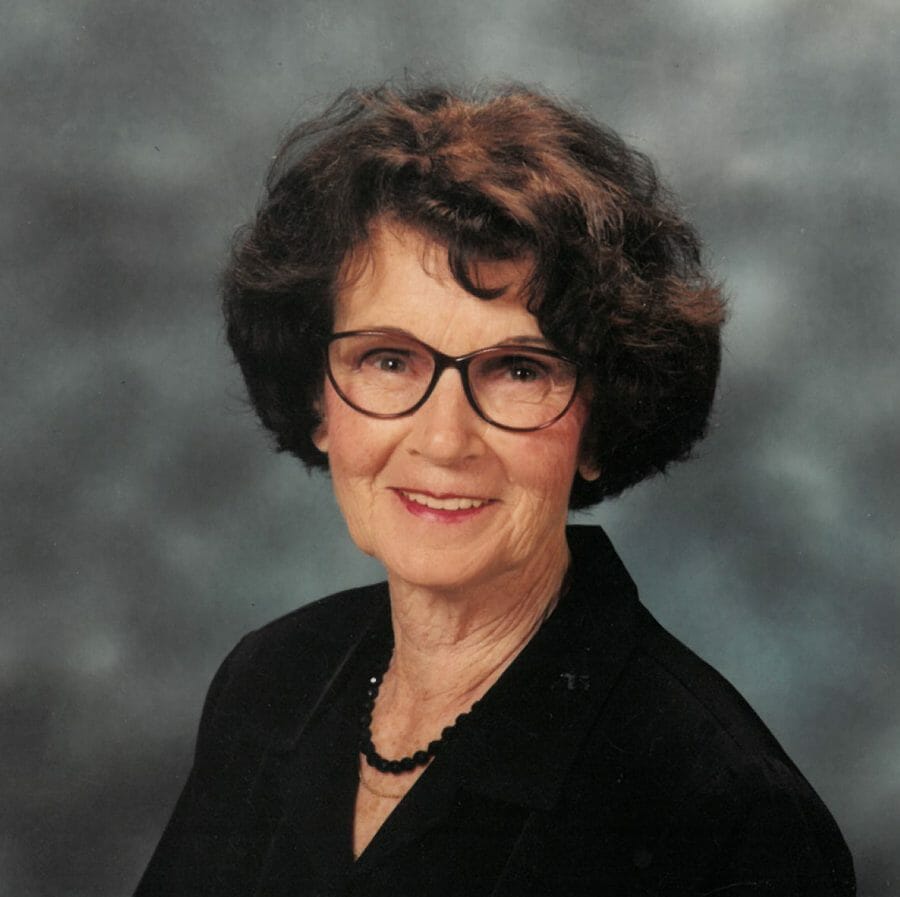 LaVern Malinski, age 94, formerly of Carrington, ND, passed away on Tuesday, November 17, 2020, due to COVID-19 at Ava Maria Village in Jamestown, ND.
LaVern O. Malinski (Hart) was born April 28, 1926, the daughter of Edward and Bertha Hart, in Chaseley, ND. There were 13 siblings she grew up with. LaVern attended two years of high school in Chaseley, ND and her last two in Bowdon, ND. At that time, she worked for the Bowdon Telephone Company as a Telephone Operator until she graduated; working evenings and weekends. After graduation, she went to San Francisco, CA, and worked for the Naval Ship Yards Office as a Payroll Clerk. She then returned home and on June 10, 1944, she married Adam Malinski. They raised four daughters on their farm, which was located 13 miles south of Sykeston. They had milking cows, beef cattle, and horses on the farm.
She was a 4-H leader for many years and her daughters kept her busy with their sewing projects. In recognition of her great work, the family was honored with a foreign exchange student from Taiwan for a summer and later they were a host family for a young girl from the inner city of Chicago. She was a member of the New Home Lutheran Church and a Sunday School Teacher, Vacation Bible School Teacher, and member of the LWML serving as President and Secretary. She served as a President of the Sykeston PTA and also President of the State PTA. In the fall of 1970, they sold the farm and moved to Carrington, ND, and started a Sears Authorized Catalogue Sales Store, which was located on Main Street of Carrington, also opening the Carrington Floral Store next door.
LaVern was a member of the American Legion Auxiliary serving as President and Chairman of the Membership Drive. She served as a State Board member and District President. She also served as a Delegate to the National Auxiliary in New Orleans. She became a member of the Grace Lutheran Church in Carrington, serving as LWML President and Secretary and enjoyed serving lunches.
After selling the Sears and Floral store, she started a new career in 1983, working for Foster County Housing Authority and retired after 29 years of service in 2012. She enjoyed bowling with her daughter, Dianne Bollen in five National Tournaments. Her seamstress work was always called upon in the community. She was a member of the Carrington Toast Master Club, and also the Edmunds Toast Master Club, while on the farm. She enjoyed having all her daughters at home at one time.
LaVern is survived by her four daughters, Sheila Foos, Covina, CA, Dianne Bollen, Covina, CA, Gail Marsolek, Jamestown, ND, and Pamela Twardy (Jimmy Ray), Apple Valley, MN; two grandsons, Jonathan (Shauna) Marsolek, Jamestown, ND, and Jordan Malinski, Billings, MT; sisters, Arliss Koehler, Fargo, ND, Jean King, West Palm Beach, FL, and Kay Brackin, Sacramento, CA and sister-in-law, Betty Hart.
She was preceded in death by her husband, Adam of 74 years; her parents, Edward and Bertha (Barchus) Hart; sisters, Fern (Hank) Flanders, Gladys (George) Daniels, Lois (Gay) Houghton, Joanne (Norman) Heintz; and brothers, Orval (Alyce) Hart, Myron (Jean) Hart, Carol (Iris) Hart, Clayton (Audrey) Hart, Warren (Betty) Hart, Garry (Betty) Hart; sons-in-law, Charles "Bo" Bollen, Ron Marsolek, and Mark Foos; and one grandson, Joshua Adam Marsolek.
In lieu of flowers, memorials may be made to the Carrington American Legion Auxiliary or the Carrington Cemetery.
A Reminisce with Family with be on Friday, June 18, 2021, at 6:00PM followed by a Prayer Service at 7:00PM all at Evans Funeral Home, Carrington, ND.
LaVern's Funeral Service will be held on Saturday, June 19, 2021, at 1:00PM at Grace Lutheran Church in Carrington, ND.
LaVern's Burial will be at the Carrington Cemetery.
Condolences are reviewed by staff.