Evans Funeral Home
"Compassionate Funeral Service"
Carrington and New Rockford, North Dakota
701.652.3003 or 701.947.2911
Secondary Number ~ 701.650.9937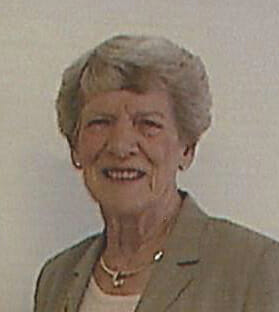 Ellen I Meier, 94, of New Rockford, ND, passed away Sunday, June 2, 2019 at the Carrington Health Center.
Ellen was born September 16, 1924, in Brantford, ND, to Martin and Laura Dyrness.  She was the youngest of eight siblings.  After graduating from New Rockford High School in 1941, she traveled to Chicago to become part of the war effort as a "Rosie the Riveter".
She returned to North Dakota and married Chester Meier of rural Cathay, ND, in 1945.  They raised three sons Donovan, Douglas, and Dennis.  Retiring from farming in 1969, she and Chester moved to Brownsville, TX.  They returned to Jamestown, ND and then moved to the Heritage House in New Rockford, ND in 2009, where Ellen lived independently.
Ellen enjoyed fishing and golf, but especially playing cards.  She was an active, working member of the Hospital Auxiliary in Jamestown where she donated her time in the gift shop.  She and Chester traveled to almost every state in the United States.  Ellen was a member of First Lutheran Church of New Rockford.
She is survived by sons: Donovan (Judy), Cathay, ND; Dennis (Ryma), Wheatland, ND; four grandsons: Preston (Mindy), New Rockford, ND; Jordon, Cathay, ND; Mike, Oak Park, IL; Kevin (Amy), Casselton, ND; and nine great-grandchildren, Amzi, Lucy, Judy Ellen, August, Manthey, Haydon, Bennett, Molly, and Jack.
She was preceded in death by her husband, Chester, son, Douglas, and her eight siblings.
Visitation:  will be one hour prior to services at the church. 
Funeral Service:  will be at 10:30AM, Friday, June 7th, 2019 at First Lutheran Church, New Rockford, ND.
Burial:  will be at Prairie Home Cemetery, New Rockford, ND. 
Condolences are reviewed by staff.