Evans Funeral Home
"Compassionate Funeral Service"
Carrington and New Rockford, North Dakota
701.652.3003 or 701.947.2911
Secondary Number ~ 701.650.9937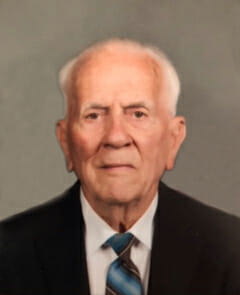 Melvin Lloyd Midgley went to be with our Lord and savior on December 2, 2020.
Melvin was born in Castleton, North Dakota on September 3, 1931 to Arthur Midgley and Agnes (Becker) Midgley.  Melvin was raised and went to school in McHenry, North Dakota.
Melvin served in the United States Navy on the USS Hymann DD-732 from 1950 to 1954.  After returning from the Navy, he attended North Dakota State University where he studied engineering.  In 1957, Melvin married Janice Ehlers.  After graduation from college in 1959, he moved his family to California to pursue his career.  Melvin retired from a career as a Production Supervisor with Kaiser Cement Corporation and then a second retirement from Mitsubishi Cement Corporation in 1995.  He and Janice then returned to McHenry, North Dakota where he purchased his family home and enjoyed retirement.  In 2010, Melvin married Marilyn Saint.  The two enjoyed 10 years of marriage, with many travels and wonderful memories.
Melvin is preceded in death by his parents, his wife Janice, his sisters Annis, Luella, Marlys and Rynetta, his sons-in-law, Doug Snyder (Rogene) and Bob Muir (Glenda).
Melvin is survived by his 7 children Rogene Snyder, Loreen McAllister (Wesley), Glenda Monroe (Jerry), Arthur Midgley (Binky), Karlla Pippen (Rory), Russell Midgley (Nina), and Janene Reed (Eric), 19 grandchildren, and 30 great grandchildren.  Melvin is also survived by his wife, Marilyn, and her loving family, including children, grandchildren, and great grandchildren.
Visitation will be Monday, December 7th, 2020 from 9:00AM – 6:45PM followed by a Rosary at 6:45PM and a Prayer Service at 7:00PM all at Evans Funeral Home, Carrington.
Mass of Christian Burial will be held Tuesday, December 8, 2020 at 10:30AM at Saints Peter and Paul Catholic Church, McHenry, ND.
Burial will be at the Saints Peter and Paul Catholic Cemetery.
Condolences are reviewed by staff.