Evans Funeral Home
"Compassionate Funeral Service"
Carrington and New Rockford, North Dakota
701.652.3003 or 701.947.2911
Secondary Number ~ 701.650.9937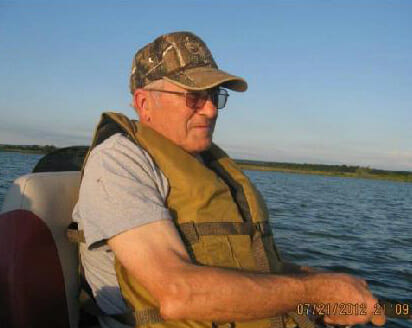 Donald R. Miller, age 75, of Wahpeton, passed away on Tuesday, September 22, 2020, at his home in Mooreton, ND.
Donald Raymond Miller was born on January 16, 1945, to Raymond and Jeanette (Sperling) Miller in Carrington, ND. He grew up there and attended schools before graduating from Carrington high school. He furthered his education and went to Valley City State College for four years obtaining his bachelors. He served in the Army National Guard.
On October 22, 1966, he married Nora Nysted in Carrington and together they raised three sons, Monti, Bruce, and Dion. They farmed with Don's father for a time before moving to California in 1968. In 1972, they returned to Carrington and 4 years later purchased the Miller Firestone Tire Store which she and Don operated until 1989. In 1992, they purchased the Hiway Off Sale which they operated up until the time of her passing in 1996. Don was currently employed by Grotberg Electric Inc. Triton Mechanical in Gwinner, ND at the Bobcat factory.
When he wasn't working, Donald's hobbies included hunting and fishing. He loved spending time out in the woods and was very active. He had a great sense of humor and his hardworking, generous, and loving demeanor will truly be missed by his family and friends.
He was survived by his sons, Monti (Roxann) Miller, Bruce (Crystal) Miller, and Dion Miller; Special friend Becky Parrow, brothers, DuWayne (Maryln) Miller and Jerry (Diana) Miller; sisters, Annette (Ken) Schulz and Elaine Miller; Arlene (Darwin) Rodacher, Lois (Glen) Meyer, Richard (Barb) Nysted; grandchildren, Miranda, Kelsey, Justin, Blaine, and Nicole (Trent) Brandvold; many nieces and nephews, the Grotberg Electric Triton Mechanical Family and many other loving family and friends.
Donald was preceded in death by his wife, Nora Miller; parents, Raymond and Jeanette Miller. Bernhart and Gladys Nysted, Walter Nysted, Gloria (Gordan) Beach, Mable (Lee) Lund, Sonia (Leroy) Miller.
Memorials may be sent to Bruce Miller, 690 4th Ave. North, Carrington, ND 58421
 A Private Graveside Service will be held on Monday, September 28, 2020.
Condolences are reviewed by staff.