Evans Funeral Home
"Compassionate Funeral Service"
Carrington and New Rockford, North Dakota
701.652.3003 or 701.947.2911
Secondary Number ~ 701.650.9937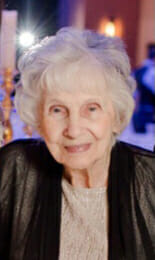 Luella Jean Miller, 96, Carrington, ND passed away Thursday, November 12, 2020 at Golden Acres Manor Carrington, ND.
Luella Jean Lange was born July 24, 1924 in Rockford, IL the daughter of the late Reinhold and Martha (Hoffman) Lange.  Luella attended grade school in Wyard Township. While staying with her aunt, she attended and graduated high school in Burbank, CA.  She then returned to ND and fell in love with Earl O. Miller. They married December 13, 1945.  To this union, 13 children were born.
Luella loved to play piano, sing, cook, garden, exercise, read; especially her Bible, and spend time with her grandchildren. She had a zest for life and love for Jesus.
Luella is survived by 4 daughters and 6 sons, Deborah (Mark) Wasemiller, John Miller, Paul Douglas Miller, Jean (Marc) Stratton, David Miller, Caroline (John) Scofield, Julie (Dave) Lutman, Timothy Miller, Michael Miller, James (Cyndi) Miller; One brother Gustav Lange; One brother-in-law Clifford Carr; Two Sisters-in-Law, Evanda Lange and Inez McCrea.  She is further survived by many nieces and nephews; 15 grandchildren and 9 great-grandchildren.
She was preceded in death by her husband Earl Miller and three daughters, Melanie Miller, Victoria Miller and Joan Miller; Her parents Reinhold and Martha Lange; Three brothers Herb (Becky) Lange, Hugh and Reinhart; Three Sisters Marge (Ray) Ziegler, Louise Carr and Eunice Jensen; Two Sisters-in-law Becky (Herb) Lange and Patricia (Gus) Lange.
Private Funeral Service will be held Thursday, December 3rd, 2020 at Evans Funeral Home, Carrington.
Burial will be at the Carrington Cemetery, Carrington.
Condolences are reviewed by staff.