Evans Funeral Home
"Compassionate Funeral Service"
Carrington and New Rockford, North Dakota
701.652.3003 or 701.947.2911
Secondary Number ~ 701.650.9937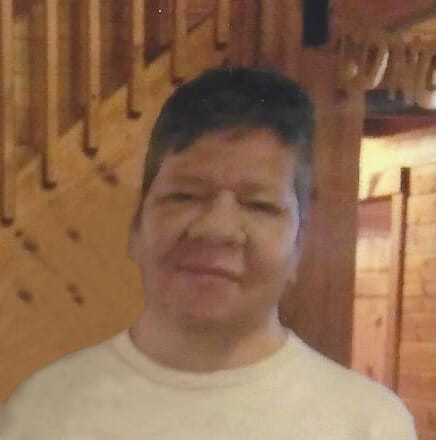 Mark Anthony Mudgett, age 52, passed away on Monday, December 17, 2018, at Sanford Health, Fargo, ND.
Mark was born July 19, 1966, in St. Paul, MN, the son of Allen Sr. and Lillian (Thomas) Mudgett.  He attended Fort Totten High School.  Mark was employed by several different businesses, including DTI, security for housing, Noodles by Leonardo Inc. and a family trucking business.  He married Joni on November 22, 2018.
Mark is survived by his wife, Joni; siblings, Allen Jr., Ronald, Richard, Matthew, Chris, Greg, Arthur (Cindy), Corrina, Melchoir, Rodney, Perry Sr. (Sharon), Rose, Jerrid Sr. (Janet) and Bennett; children, Andrew (Miranda) Mudgett, Michael (Anne) Mudgett and Mark (Darcie) Riggle; grandchildren, Dakotah, Skylah, Dominick, Tyler and Joseph; aunts, Lorraine Greybear, Jennie Royce, Grace Eiffler and Joyce Madigan; uncle, Jesse Mudgett and two brothers-in-law, Kevin Riggle and David Riggle and goddaughter, Shanel Mudgett.
He is proceeded in death by his parents, Allen Sr. and Lillian; sister, Corrina; brothers, Allen Jr. and Ronald Sr.; nephews, Parker Mudgett, Darrett Mudgett and Nilus Blacklance and step son, Charles John Riggle.
A special thank you to the Fort Totten Ambulance, Devils Lake ER and Sanford Health for the great care they gave Mark.
Visitation will begin Friday, December 21, 2018 from 5:00PM-7:00PM, with a Prayer Service at 7:00PM, all in Evans Funeral Home, New Rockford, ND.
Funeral Service will be held Saturday, December 22, 2018, at 10:00AM in Crow Hill Rec Center, Fort Totten, ND.
Condolences are reviewed by staff.