Evans Funeral Home
"Compassionate Funeral Service"
Carrington and New Rockford, North Dakota
701.652.3003 or 701.947.2911
Secondary Number ~ 701.650.9937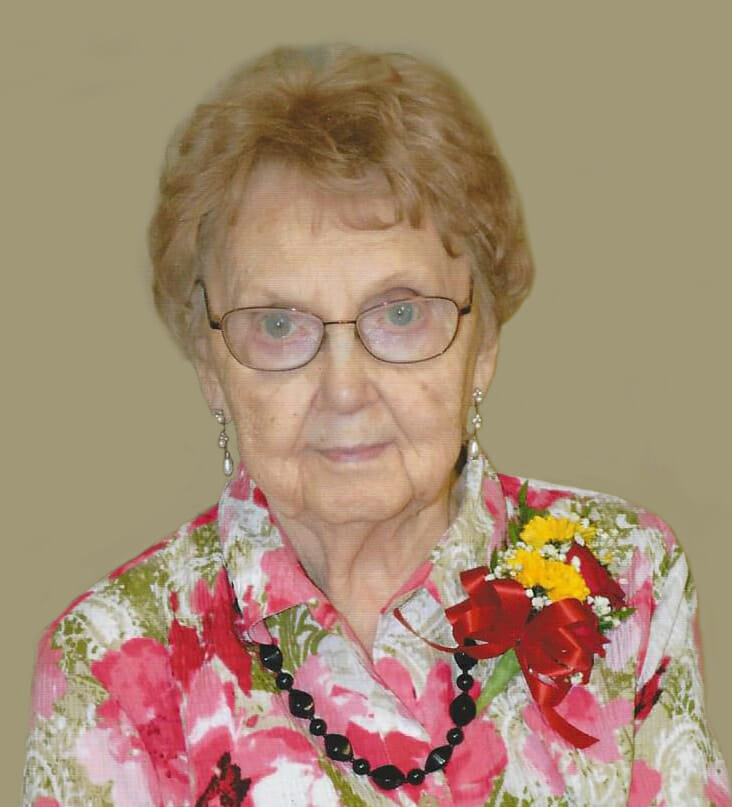 Thelma Myhre, age 101, New Rockford, passed away Friday, December 20, 2019 at the Lutheran Home of the Good Shepherd in New Rockford, ND.
Thelma Irene Sund was born August 18, 1918,  in Sheyenne, ND, the daughter of Edward and Petra (Spangberg) Sund. Thelma attended a country school in Grandfield Township and completed her schooling at Sheyenne High School.  After her schooling,  she cleaned homes in the Sheyenne area.
On July 20, 1941, Thelma was united in marriage to James Orville Myhre at the Lutheran parsonage in Sheyenne. Thelma and J. Orville were blessed with three children Jerry, Nyle and Janice. They lived and farmed west of the Myhre home farm until they moved to New Rockford in 1969. Thelma and Orville continued with the everyday life of farming until they officially retired in 1982.
Thelma was very active in her church, she was baptized, confirmed, a member of the Ladies Aid and sang in the Grandfield Lutheran Church choir. When Thelma was not busy at the church she could often be found in her kitchen baking and decorating cakes for all types of events, weddings, anniversary and birthday cakes. Thelma had many hobbies such as sewing, crafts of all kinds, flower gardening, baking cookies and bread,  singing in the Silver Chords, round dancing and spending time with her family and friends.
Of all the things in life, her family was the most important. Spending time with her children as they grew up and had families of their own. Thelma was in support of her family for each and every event that she could attend.
Thelma is survived by two sons, Jerry (Karen) Myhre, Geneseo, IL, Nyle (LaVonne) Myhre, Sheyenne, ND; a daughter Janice (Keith) Rost, Cathay, ND; ten grandchildren; fifteen great-grandchildren; two brothers Erling Sund, Columbus, OH, Clifford (Karen) Sund, Cedar Falls. IA; numerous nieces and nephews.
She is preceded in death by her husband James Orville Myhre; her parents; two sisters Gladys Erickson and Anna Irmen; three brothers Glen, Harold and Rolf Sund and two great-grandchildren
Visitation will be Thursday, December 26, 2019, from 9:00AM-7:00PM followed by a Prayer Service at 7:00PM all at Evans Funeral Home, New Rockford, ND.
Funeral Service will be held Friday, December 27, 2019, at 10:30AM at Grandfield Lutheran Church, rural Sheyenne, ND.
Burial will be at the Grandfield Lutheran Cemetery, rural Sheyenne, ND.
Condolences are reviewed by staff.