Evans Funeral Home
"Compassionate Funeral Service"
Carrington and New Rockford, North Dakota
701.652.3003 or 701.947.2911
Secondary Number ~ 701.650.9937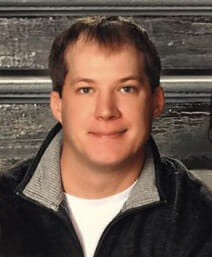 Chad Neumiller, 38, of Bismarck, ND passed away Friday, February 14, 2020 at Sanford Medical Center in Bismarck with his loving wife by his side.
Chad Donald Neumiller was born on May 3, 1981 to Doug and Nancy (Jenny) Neumiller in Fargo, ND.  He grew up in Sykeston, ND and graduated from Sykeston High School in 1999.  Chad was employed at Bobcat Manufacturing in Bismarck at the time of his death.
Chad married the love of his life Jennifer Ennen on May 9, 2009 in Carrington, ND. They had one beautiful daughter together, Madelyn Grace, age 8. Chad was an amazing and doting father to Madelyn and a loving and devoted husband to Jennifer. He adored his parents and was especially close to his brother Drew. Anyone who knew Chad knows how important his family and friends were to him. He enjoyed vacationing with his brother Drew and his wife Lisa. He also enjoyed camping, fishing, the Atlanta Braves and music of all kinds. Above all he loved and cherished the time he spent with his daughter Madelyn Grace.  
Chad is forever in the hearts of his wife Jennifer Neumiller, his daughter Madelyn Grace Neumiller, both of Bismarck, ND; parents Doug and Nancy Neumiller of Sykeston, ND; his brother and best friend Drew and his wife Lisa Neumiller and their children Kaylee and Caden of West Fargo, ND; in-laws Glenn and Lisa Sherman of Linton, ND; Randy Ennen (Christy Kuntz) of Ypsilanti, ND; sisters-in law, Kathleen (Erik) Bilstad, Liz (Justin) Jochim, Darlene Ennen and Jada Ennen. Brothers-in-law Lance (Heather) Sherman and Shane (Meredith) Sherman and many loving nieces, nephews, aunts, uncles, cousins and friends.
The family would like to extend a sincere thank you to the fourth floor nursing staff and the doctors of Sanford Hospital who cared for Chad during this difficult time. Your kindness and compassion truly touched our hearts.
Chad was preceded in death by his grandparents, Paul and Edna Neumiller and Matt and Agnes Jenny and his cousin Arick Seil.
Visitation: will be Thursday from 1-5PM at Evans Funeral Home, Carrington and continue from 6-7:00PM followed by a Prayer Service at 7:00PM all at Grace Lutheran Church, Carrington.
Funeral Service will be held Friday, February 21, 2020, at 10:30 AM at Grace Lutheran Church, Carrington, ND.
Burial will be at the Sykeston Cemetery.
Condolences are reviewed by staff.