Evans Funeral Home
"Compassionate Funeral Service"
Carrington and New Rockford, North Dakota
701.652.3003 or 701.947.2911
Secondary Number ~ 701.650.9937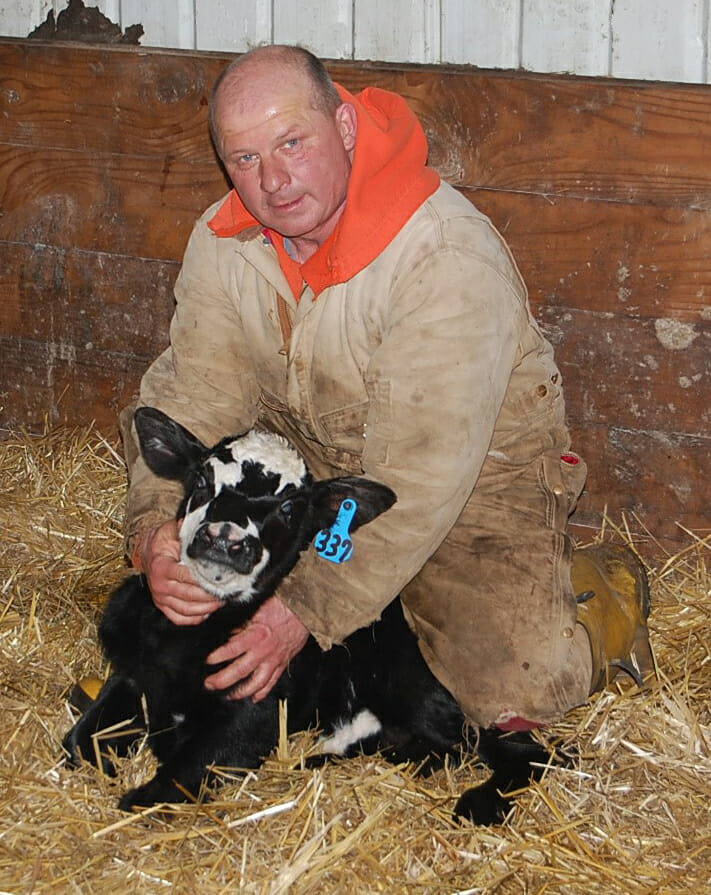 James "Jim" Richard Neumiller, age 61, of Sykeston, ND passed away peacefully the evening of February 16, 2021. He was surrounded by his loving family at the time of his passing.
Jim was born on September 18, 1959 in Carrington, ND. He was the youngest of five and the only son born to Richard and Virginia (Schaack) Neumiller. He attended St Elizabeth's Catholic School until 1968, then attended Sykeston Public School where he graduated in 1977. Throughout high school, Jim enjoyed playing basketball and running cross country for the Wildcats.
Jim began working with his dad on the farm and worked on the pipeline during the winter months to earn extra cash. He saved enough to buy his first 1486 International tractor. During his time with the pipeline, he was in an accident where he almost lost his leg. Jim spent 54 days in the hospital relearning how to walk. Being the stubborn man we all know him to be, he returned to farming and ranching having full function of his leg. As he would say, he could still out run or work anybody. Jim continued playing basketball, softball, and being competitive in everything he could.
On November 20, 1987 Jim was united in marriage with Karen Mallen. Together they moved to the family farm and raised four kids. Jim was very involved in his kids' lives. He enjoyed coaching and mentoring many kids, treating them all like his own. Everywhere he went he would have a carload of kids with him. Jim loved having his kids help on the farm. He enjoyed teaching them all he knew, even if most of it would end with yelling. Jim knew how to make everything fun. Whether it was a good joke he just had to tell, hiding to scare someone, or chasing basically anyone he knew.
Jim's true passion was his cows. He raised black Simmentals where he grew his herd to 375 head. He knew every cow by heart. Jim could always be found fixing fencing along the highway in his wild shorts and bright yellow boots. He liked to involve everyone when it came to moving the cows to and from the pasture. Soon it became a family activity.
Jim continued to be active in the Sykeston community and was always willing to lend a helping hand. He enjoyed working in Napoleon at the Livestock Sale every Thursday. He was able to make lifelong friendships with people in everything he did.
Jim's pride and joy became his grandkids. Having them ride in the tractor, go to cattle sales, and teach them things only Jim could teach them gave him great joy.
Jim is survived by his wife Karen; two daughters, Kristen (Derek) Beckley, Sykeston, Nikki (John) Anderson, Lincoln, ND; one son, Patrick Neumiller, Carrington; three grandchildren, Wyatt, Russell, and Ruth Beckley; four sisters Patty Tofte, Fargo, ND, Shirley (Larry) Jackson, Jamestown, ND, Mary Williams, Sykeston, and Jane (Jim) Fredrickson, Carrington; Three brothers-in-law, Paddy (Cheryl) Mallen, Fonthill, ON, CA, Arnie (Nikki) Mallen, Windsor, ON, CA, and Don (Jane) Mallen, Windsor, ON, CA; and many nieces and nephews.
Jim is preceded in death by his beloved son Mathew Neumiller; his parents Richard and Virginia Neumiller; his father and mother-in-law Patrick "Jones" and Madonna Mallen; two brothers-in-law, John Williams and Otto Tofte; and two nephews Michael Tofte and Brian Williams.
Visitation will be Monday, February 22, 2021, 9:00AM – 4:30PM at Evans Funeral Home, Carrington and will continue at church from 6:00-7:00PM a Rosary Service will be held at 6:45PM followed by a Vigil Service at 7:00PM at St. Elizabeth's Catholic Church, Sykeston, ND.
Mass of Christian Burial will be held Tuesday, February 23, 2021, at 10:30AM at St. Elizabeth's Catholic Church, Sykeston, ND.
Burial will be at the St. Elizabeth's Catholic Cemetery, Sykeston, ND.
Condolences are reviewed by staff.