Evans Funeral Home
"Compassionate Funeral Service"
Carrington and New Rockford, North Dakota
701.652.3003 or 701.947.2911
Secondary Number ~ 701.650.9937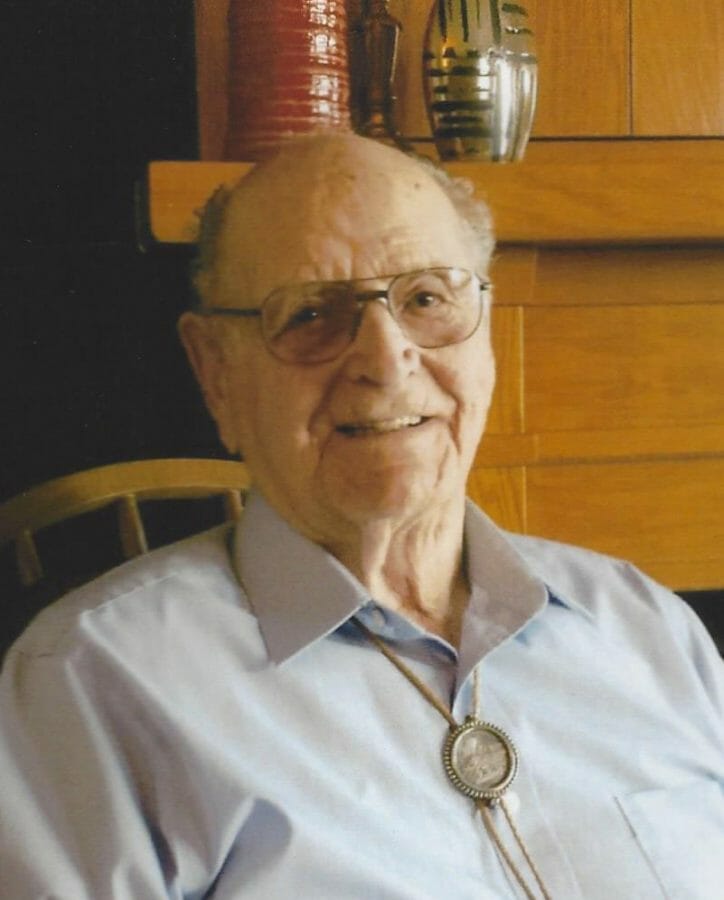 Arden E. Nygaard, 95, Fargo, ND, formerly of New Rockford, was called to his heavenly home on October 18, 2020.
Arden Emil Nygaard was born April 28, 1925 in Barlow, ND to Emil and Anna Christine (Johanesen) Nygaard.  His mother died when he was one year old, and was raised by Tom and Hilda Gedrose.  He joined the US Navy during World War II, serving in Guam.
He married Mary Jane Satterlund on September 26, 1947 in New Rockford, where they lived and raised 12 children.  He worked for Ford, Archie Campbell Construction, Great Northern Railroad and Fisher Sand and Gravel.  After retirement they moved to Jamestown and to Fargo in 2005.
Family was his priority.  He was a kind, gentle man who always looked at the bright side of life.  His favorite pastime was building birdhouses, benches, and cedar chests in his shop at Michael's, where he resided.  He remains a member of the American Legion, VFW, Knights of Columbus, and a charter member of the New Rockford Eagles.
Arden is survived by his sons, Alan (Mary) Nygaard, Syracuse, NE, Michael (Marsha) Nygaard, Fargo, Lyle (Heather) Nygaard, Gillette, WY, Tom (Kristen) Nygaard, Firestone, CO, and Daryl (Angie) Nygaard, Austin, TX, his daughters, Diane Hendrickson, Bismarck, Chris (Ray) Mering, Jamestown, and Jean (Mike) Fisher, Fargo, also 45 grandchildren and 32 great-grandchildren.
He was preceded in death by his wife, Mary Jane, sons, Arden Charles, Duane, Bruce, and Gary, daughter, Audrey, grandson Josh, brothers, Stanley and John and sister, Anna Stedman.
Memorial preferred to St. Johns Cemetery Association, New Rockford, ND.
Visitation will be Friday, October 23, 2020 from 9:00AM – 5:00PM at Evans Funeral Home, New Rockford.
Funeral Service will be Saturday, October 24, 2020 at 1:00PM at St. John's Catholic Church, New Rockford.
Burial will be at the St. John's Catholic Cemetery, New Rockford.
Condolences are reviewed by staff.