Evans Funeral Home
"Compassionate Funeral Service"
Carrington and New Rockford, North Dakota
701.652.3003 or 701.947.2911
Secondary Number ~ 701.650.9937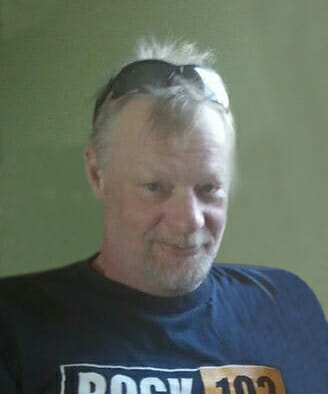 Jeffrey Michael Nyhusmoen, age 58, of Sheyenne, ND, passed away at his home, Wednesday December 11, 2019 surrounded by his family and closest friends.
Jeffery was born April 9, 1961 at the New Rockford hospital to Arnold and LouAnn and baptized at the First Lutheran Church. His family moved to Washington state where he graduated from Hazen High School in Renton, Washington. Jeff worked with much success as a welder in WA. He started a family and returned to ND to plant some roots of his own.
Upon returning to North Dakota Jeff worked several jobs such as a radiator repairer, welder, plant operator at the gravel pits, cows, farming and inspired to run the Nyhusmoen farm.  Jeff was a true outdoorsman who loved to fish, trap and shoot guns.  He worked hard for everything he had and took pride in everything he did.  He enjoyed many things such as spending time with his children, grandchildren, friends and his adopted son Matt Ziegler.  One of Jeff's favorite pastimes include Sunday Fundays at Swen's, drinking beer and watching football.  Jeff was a tree huggin' hippy that loved a simple life with simple joys.
Jeffery is survived by parents, Arnold "Arnie" and LouAnn Nyhusmoen, his aunt, Connie (Dwayne) Brown, siblings, Richard (Marylou) Nyhusmoen, Pamela (Randy) Jerome, Eric (Lynette) Nyhusmoen, children, Nicolle (Andrew) Fruehan, Alexandria Nyhusmoen, and Shay (Adam) Donaldson, eight grandchildren, and eight nieces and nephews.
Jeffery is preceded in death by Sigurd and Blenda Nyhusmoen, Clarance and Lilly Moen and cousin, Danny Brown.
A gathering of family and friends will be one hour prior to the Celebration of Life.
A Celebration of Life is Monday, December 16th at 7:00PM at Ostby Hall, Sheyenne, ND.
Burial will be held at the Riverside Cemetery, Sheyenne, ND at a later date.
Condolences are reviewed by staff.