Evans Funeral Home
"Compassionate Funeral Service"
Carrington and New Rockford, North Dakota
701.652.3003 or 701.947.2911
Secondary Number ~ 701.650.9937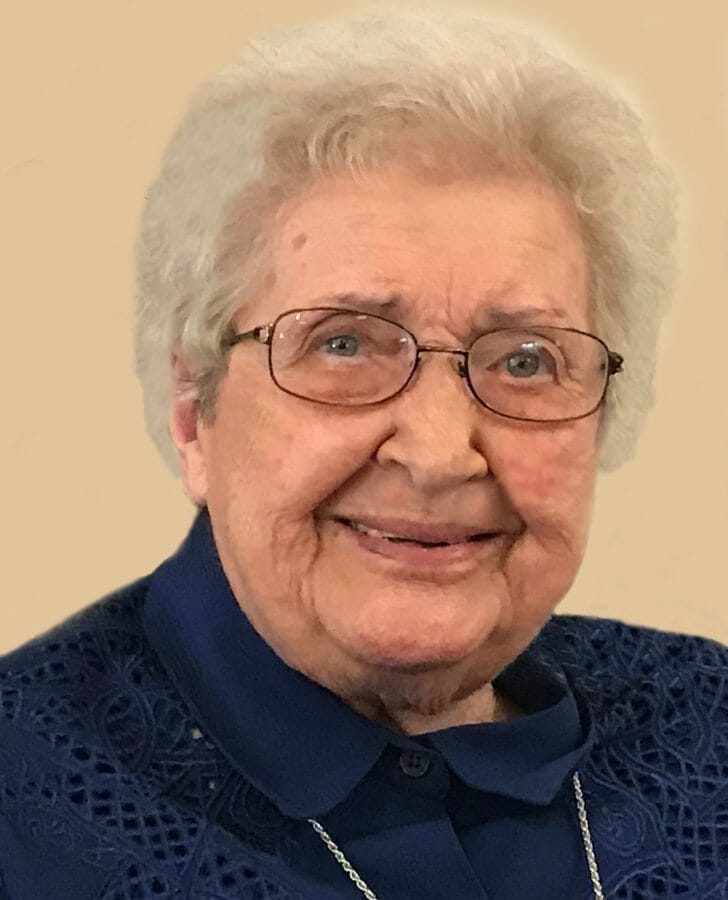 Juanita "Junita" Nyhusmoen, 96, of Sheyenne, passed away Monday, December 16, 2019 at the Lutheran Home of the Good Shepherd, New Rockford, ND.
Junita was born June 2, 1923, in Sheyenne, North Dakota, the daughter of August and Evalina (Koopman) Hagge. Her brothers, Gerald, Richard, and LeRoy came along to complete the family.
After graduation from the State Normal and Industrial School in Ellendale, Junita taught first through eighth grade in a one room school house in Valhalla School #3 west of Sheyenne in Wells County.
She married Ole Loken on July 24, 1943 and settled on a farm outside of Sheyenne. Children Barbara, John, and Roger were born in the next five years. In 1950 the family moved to Napa, California where several friends had relocated and their fourth child, Deborah, was born. Junita divorced Ole in 1968.
In 1976 Junita visited Sheyenne for the bi-centennial celebration reconnecting with several old friends. Sigurd Nyhusmoen and Junita found a special connection and married the next year. She left California and moved back to North Dakota. Her family then increased in size with Sigurd's children, Arnold, Betty, and Janice along with their families.
Junita is survived by daughters, Barbara Blaine and Deborah Goetz, sons, John Loken and Roger Loken, four grandchildren and numerous nieces and nephews. She is also survived by Betty Georgeson, Janice (Eugene) Nielsen, and Arnold (LouAnn) Nyhusmoen and their children.
She was preceded in death by her parents, her brothers Gerald, Richard and LeRoy, husbands, Ole Loken and Sigurd Nyhusmoen, and sons-in-law, Gary Georgeson and Bruce Goetz.
Visitation will be Friday, December 20, 2019 from 9:00AM-5:00PM at Evans Funeral Home, New Rockford, ND.
Funeral Service will be held Saturday, December 21, 2019 at 2:00PM at First Lutheran Church, Sheyenne, ND.
Burial will be held at a later date at the Grandfield Lutheran Cemetery, rural Sheyenne, ND.
Condolences are reviewed by staff.