Evans Funeral Home
"Compassionate Funeral Service"
Carrington and New Rockford, North Dakota
701.652.3003 or 701.947.2911
Secondary Number ~ 701.650.9937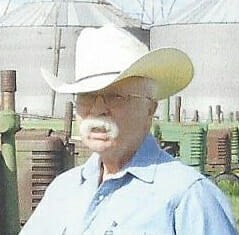 Harold Dale Nystrom passed away on Saturday, September 21, 2019 at the Lutheran Home of the Good Shepherd, New Rockford, ND.
Harold Dale Nystrom was born July 2, 1937, the only child of Harold and Vera (Brawders) Nystrom in New Rockford, ND.  He lived in Sheldon Township.  Dale attended country school in Sheldon Township and graduated from New Rockford High School in 1955. 
Known as Dale, he belonged to the First Congregational Church where he served on many boards and councils.  He also served as a licensed lay minister through Conservative Congregational Christian Conference and served many small churches throughout central and northern North Dakota.
He was married to Ida Mae Horner on April 8, 1963.  Harold, Edward, James, Glen and Julie were born to this union.  Ida Mae passed away on June 18, 2006.  An only child, he always considered Ida Mae's siblings as his own.
Dale served as Sheldon Township Supervisor, was a 60 year member of the North Dakota Stockmen's Association and active in Eddy County Farm Bureau.  He was a member of the Central North Dakota Steam Threshers Association.  He announced the Parade of Engines for many years.  He was a farmer/rancher in Sheldon Township and also worked as a CNA at Lutheran Home of the Good Shepherd from 1985 until 2008.  He belonged to the Men's Prayer Breakfast group.  He started writing cowboy poetry and sharing it at Dakota Cowboy Poetry gathering in Medora in 1992.  He later was honored to perform at the National Cowboy Poetry gathering in Elko, Nevada.  He was recognized as "Teddy Roosevelt" in the 4th of July Parade for many years.  He was also known for dancing the polka, which he learned from his mother at Tiffany Hall at the age of six.
He is survived by his wife, Sandra, sons, Harold (Kim), Edward (Faye), Glen (Dusti), daughter, Julie (Shane) Dinius, 14 grandchildren, 6 great grandchildren, step sons, Michael (Cheri) Nicolai, James (Eliana) Nicolai, Charles Nicolai, Thomas (Nyrie) Nicolai, Christopher (Laura) Nicolai, step daughters, Caryn Woodstead, Maria (Gabe) Gietzen, Nicole (Steve) Scherweit, 30 step grandchildren, sisters in law, Myrna Unger, Harriet Horner, Dorie Horne, Vicky Gerstbrien and brother in law, John Horner.
He was preceded in death by his parents, Harold & Vera Nystrom, his wife, Ida Mae, his son, James, sister in law, Carolyn Horner Sager and brothers in law, Dwight Horner, Andy Horner and Perry Horner.
A Visitation will be held one hour prior to the Memorial Service.
His Memorial Service will be held Tuesday, September 24, 2019, at 2:30PM at the First Congregational Church, New Rockford, ND.
Burial will be held at the Nystrom Cemetery, rural Sheyenne, ND.
Condolences are reviewed by staff.