Evans Funeral Home
"Compassionate Funeral Service"
Carrington and New Rockford, North Dakota
701.652.3003 or 701.947.2911
Secondary Number ~ 701.650.9937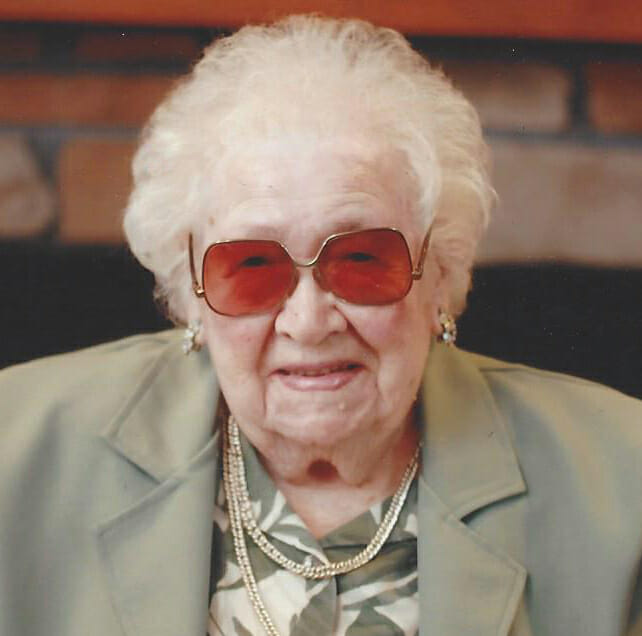 Gertrude Omoth, age 107, of New Rockford passed away peacefully on Sunday, September 1, 2019, at the Lutheran Home of the Good Shepherd in New Rockford.
Sadie Gertrude McCrank was born on December 31, 1911, in Washington Lake Township, Eddy County, North Dakota, the daughter of Daniel T. and Mary (McNeil) McCrank.  She grew up on the family farm and attended country school there.  She later attended New Rockford High School. 
Gertrude married Ted Omoth on November 8, 1934, at the Catholic Church at St. Michael, North Dakota.  They moved to a farm in Columbia Township.  In the spring of 1940, they moved to Rock Township Benson County and farmed with Erling Anderson, a young man who had lost his parents. 
Gertrude also received a teaching certificate and taught school near Brantford for several years.  They lived there for 51 years until the death of Ted in 1991.  She later moved into the Westview Apartments in New Rockford and eventually moved to the Heritage House.  Gertrude had been a resident of the nursing home since 2014.
Gertrude was a member of St. John's Catholic Church.  She enjoyed crocheting, reading, crossword puzzles, and in her younger days was very good at raising orphan lambs.  She and Ted had traveled the Continental United States and Canada.
Gertrude is survived by many nieces and nephews, and grand nieces and nephews.
She was preceded in death by her parents; brother, Joseph McCrank and foster son, Erling Anderson.
Visitation will be Friday, 9:00AM-5:00PM at Evans Funeral Home, New Rockford and continue from 6:00PM-6:45PM at St. John's Catholic Church followed by a Rosary and Vigil Service at 6:45PM.
Mass of Christian Burial will be held Saturday, September 7th, 10:00AM at St. John's Catholic Church, New Rockford.
Burial will be at the St. John's Catholic Cemetery.
Condolences are reviewed by staff.