Evans Funeral Home
"Compassionate Funeral Service"
Carrington and New Rockford, North Dakota
701.652.3003 or 701.947.2911
Secondary Number ~ 701.650.9937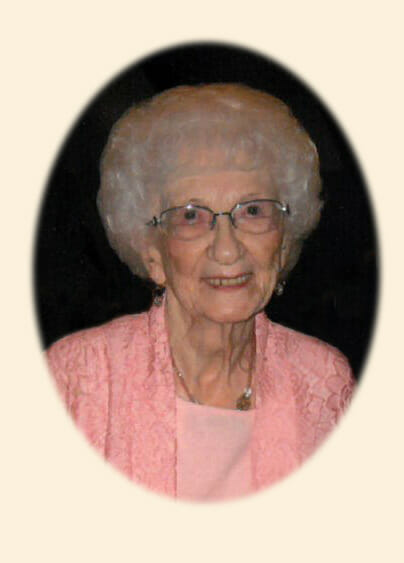 Donna Otto, age 97, of Carrington, formerly of Grace City passed away peacefully on Wednesday, June 19, 2019, at CHI St. Alexius Health in Carrington, ND.
Donna June Otto was born on June 13, 1922, in Bowdon, ND, to Murhl Burt and Lucille Burt (Seibel). Lucille was remarried to Lee Frederick; Donna considered Lee as her father and had a wonderful father-daughter bond with Lee throughout the rest of his life.
On September 21, 1941, Donna was united in marriage to Russell D. Otto in Bowdon, ND. From this union, they were blessed with three children; Kent, Terry, and Kathy. Russell and Donna made their home on a beautiful farmstead near Grace City, Donna stayed busy for many years preparing meals for the threshing crews. In 1963, she was hired as a rural mail carrier in Grace City, Buchanan, and Jamestown. She retired in 1985, after many years of service. In 1991, Russell and Donna celebrated their 50th Wedding Anniversary, with an open house at the Grace City School.  Russell and Donna lived on the farm from 1941- 2000 and Donna continued to live there even after Russell passed away in 2000.
Donna loved all the family holidays and celebrations, especially Christmas. She enjoyed teaching her family how to play Dominos and card games. Family was everything to Donna and she showed that by attending all her children's, grandchildren's, and great-grandchildren's academic and sporting events. She was so very proud of them all.
In 2003, Donna moved into Carrington and continued to stay busy with her hobbies. Donna was an avid reader and she enjoyed many hobbies, which included Pinochle, Ceramics, crossword puzzles, Sudukos, and Bingo. Her favorite place to go was the Senior Center to play Pinochle and be with her friends. She loved going to Pinochle tournaments and Saturday Pinochle.    
She was a proud member of the Grace City Methodist Church, Rural Mail Carriers Association, United Methodist Women's Group of Grace City, attended the Federated Church in Carrington, she served on the Grace City School Board, and PTA. Donna was also a member of the Democratic Women's Association and was a Delegate to the North Dakota Democratic Convention.
Donna is survived by her son, Terry (Mary) Otto, Carrington; daughter, Kathy (Marc) Halvorson, West Fargo, ND; grandchildren, Sarah Otto (Jamie Rude), Pekin, ND, Rachael Otto (Susan Faus), Minneapolis, MN, Eric (Missy) Halvorson, West Fargo, ND, Emily (Jed) Dronen, Fargo, ND, Jason (Kelly) Otto, Grace City, ND; great-gradnchildren, Alex Otto, Rylee Halvorson, Ellie Halvorson, Callie Halvorson, Hayley Dronen, Evan Dronen, Tara Otto, Jake Otto, Cody Otto; special niece, Barb (Erwin) Sanchez and family, Barstow, CA;  and a special nephew, Jim (Erin) Burt, Gulf Shores, AL.
Donna is preceded in death by her parents; husband Russell; son Kent; brother Lyle Burt; and grandson Brian Rembolt.
Visitation will be held Sunday, 5:00-7:00PM with family present at Evans Funeral Home, Carrington.
Private Funeral Service will be held in Evans Funeral Home, Carrington, ND.
Burial will be held at the Grace City Cemetery.  
Condolences are reviewed by staff.