Evans Funeral Home
"Compassionate Funeral Service"
Carrington and New Rockford, North Dakota
701.652.3003 or 701.947.2911
Secondary Number ~ 701.650.9937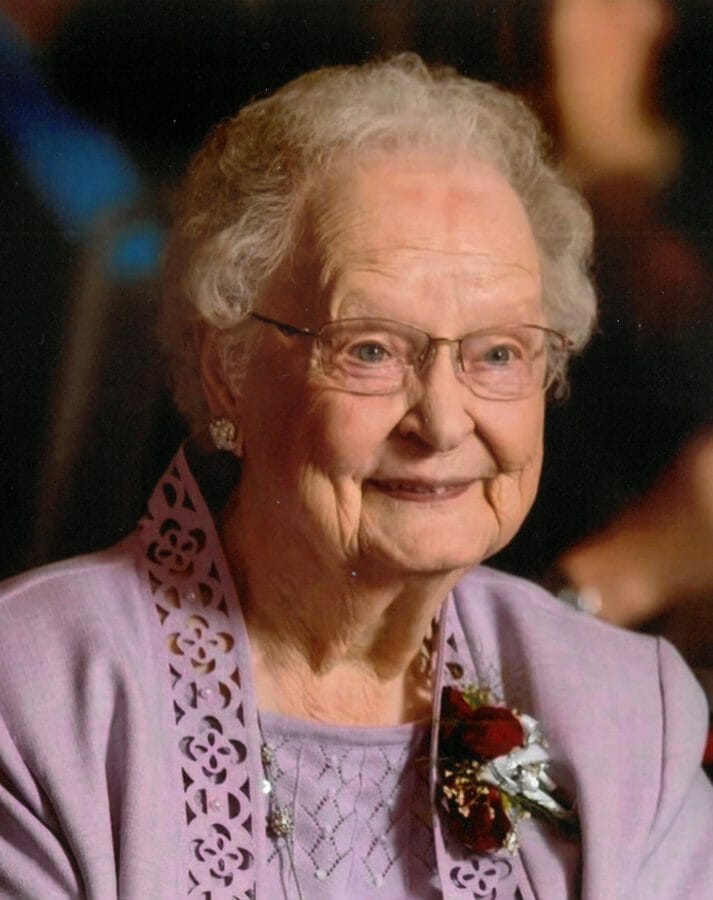 Catherine J. Palmer, age 100, of Carrington, ND, passed away on Thursday, October 21, 2021 at Golden Acres Manor, Carrington, ND.
Catherine Johanna LaQua was born on January 5, 1921 in Kensal, ND.  She was the first born of six children to Joseph Albert and Irene Mary (Clancy) LaQua.  Catherine graduated from Kensal High School in 1938.  That fall she continued her education as a student at the college of St. Catherine in St. Paul, MN.  She majored in Home Economics Education and minored in Music, graduating in 1942.  Catherine began her teaching career in Roslyn, SD, where she taught for two years and continued teaching for another year in Courtenay, ND.
She married John Palmer on June 15, 1944 at St. John's Catholic Church in Kensal, ND.  Susan, Connie and Dennis were born while they resided in Courtenay, ND.  In 1953 the family moved to Carrington, ND, where they owned and operated Palmer Plumbing and Heating for 30 years.  In 1982 Catherine became the manager of Carrington Homes.
Catherine's love for music began early in her life.  She started playing the organ at the age of 12 in Kensal at the St. John's Catholic Church.  She became a gifted pianist and organist.  Catherine continued her dedication to the music ministry by playing the organ at Sacred Heart Catholic Church, beginning in 1954 and continuing for almost 60 years.  In 2004 she celebrated a personal milestone of playing the organ at Christmas Mass consecutively for 50 years.
Catherine was an accomplished seamstress.  As a young girl she sewed for her siblings.  Many times, remaking garments to create something new.  Her creations included many formals for her daughters and their wedding dresses.  Always up to the challenge of difficult patterns, she created unique pieces of clothing to be worn and enjoyed by family members.
Catherine was a member of Sacred Heart Catholic Church and Alter Society.  She served as President of the Women's Auxiliary for the ND Plumbing Association.  Also served as secretary for the Carrington G.F.W.C. Women's Literary Club and Treasurer for P.T.A.  She was a proud member of the ND Whopper Club, which indicates the walleye she caught was 8 pounds of better.  Among her hobbies: creating 30 Christmas stockings, music, traveling, fishing, camping, sewing, embroidering and playing solitaire.  Her 8 grandchildren, 16 great-grandchildren and 1 great grandchild due in December were a very special part of her life.
Catherine will be deeply missed by her two daughters, Susan (Darrell) Wolsky, Carrington, ND, Connie (Gary) Diekow, Coon Rapids, MN and daughter-in-law, Joyce (Lynn) Overboe, Kindred, ND and eight grandchildren, Ryan (Alicia) Diekow, Elk River, MN, Leah (Leo) Palmer, San Francisco, CA, Kevin (Jennifer) Wolsky, Carrington, ND, John (Neha) Palmer, San Francisco, CA, Josh Diekow, Ramsey, MN, Anna (Patrick) Palmer, Washington, DC, Catherine (Zach) Heller, West Fargo, ND, Rachel Overboe, San Francisco, CA and sixteen great-grandchildren, Coleton and Aleese Diekow, Kiersten and Easton Schwartz, Kaden, Grace (Austin), Emma, Haley, Reagan, Kallen, Krew and Aleah Wolsky, Adeline Spooner, Eli Diekow, Deven and Kiran Palmer and baby boy Heller and many nieces and nephews.
Catherine was preceded in death by her parents, her husband, John of 58 years and son, Dennis, four sisters and one brother.
Her Visitation will be Sunday, from 1:00PM-4:30PM at Evans Funeral Home, Carrington, and continue from 6:00PM-7:00PM followed by a Rosary and Vigil Service at 7:00PM at Sacred Heart Catholic Church, Carrington.
Catherine's Mass of Christian Burial will be held Monday, October 25, 2021 at 10:30AM at Sacred Heart Catholic Church, Carrington.
Her Burial will be at the Carrington Cemetery.
Condolences are reviewed by staff.