Evans Funeral Home
"Compassionate Funeral Service"
Carrington and New Rockford, North Dakota
701.652.3003 or 701.947.2911
Secondary Number ~ 701.650.9937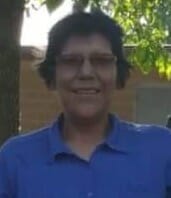 Andrea Rose Peltier, age 57, of Fort Totten, ND, passed away on Sunday, August 9, 2020 at her home surrounded by her loving family.
Andrea was born on February 8, 1963 to John and Gladys Peltier, Devils Lake, ND.  Andrea graduated in 1981 from Fort Totten High School.  She attended Little Hoop College in 1993 and received a two year certificate in Maintenance.  Andrea worked at Brunswick, DTI, Spirit Lake Courthouse, Mini Casino Blackjack Dealer, L.H.C.C. as an auditor and Luis Café as a waitress.
She enjoyed traveling to pow wows, listening to music, going to Bingo in Sheyenne and Minot, visiting friends and family, playing cards like Skip Bo and Pinnacle.
Andrea is survived by her loving family, sister, Edith Peltier; sons, Roman Ducheneaux III, Derry Ducheneau, Treigh White Buffalo, Justin White Buffalo and Tate Ducheneaux; daughters, Maddison Ducheneaux, Julia Tomahawk, Andrea Ducheneaux and Savannah Ducheneaux; adopted sons, Manny Charging and Kristopher White; adopted daughters, Faith Tomahawk, Hope Tomahawk, Michelle Hale and Chantell RedDay and special friend, Delmer Iceman.
Preceded in death by her parents, John & Gladys Peltier; brothers, John Peltier Jr., Eddie Peltier, Fredrick Peltier, Larry Peltier; sisters, Florestine Peltier, Lois Littlewind, Julia Peltier; son, Phillip Krulish.
Wake will be Thursday, August 13, 2020 starting at 5:00PM followed by a Rosary Service at 7:00PM all at her home, Fort Totten.
 Friends wishing to join the procession from New Rockford to Fort Totten may gather at Evans Funeral Home prior to 4:00PM.
Private Service will be held Friday, August 14, 2020 at 10:00AM at her home, Fort Totten.
Public Burial will be held Friday, August 14, 2020 at 11:00AM at the St. Jerome's Catholic Cemetery, rural Fort Totten.
Condolences are reviewed by staff.