Evans Funeral Home
"Compassionate Funeral Service"
Carrington and New Rockford, North Dakota
701.652.3003 or 701.947.2911
Secondary Number ~ 701.650.9937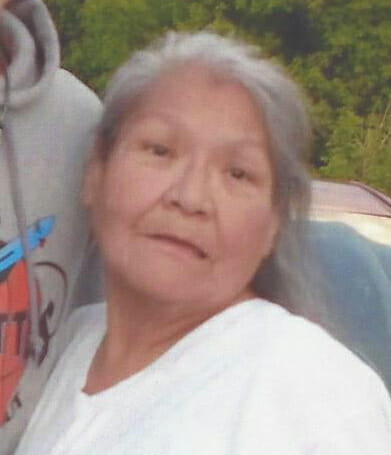 Joyce Faye Peltier, age 66 of Ft. Totten passed away Wednesday, November 7, 2018 at CHI Mercy Hospital in Devils Lake.
Joyce Faye Peltier was born September 14, 1952 in Devils Lake, North Dakota to the late Frank and Josephine Tomahawk.  She was raised in Ft. Totten and was educated at the Little Flower School in St. Michael.
She was employed at Spirit Lake Casino and various other jobs. 
Joyce had a special bond with her grandkids.  She loved being around with her kids.  She enjoyed watching TV and watching movies with her grandkids.  She was a very loving and caring person.  She also enjoyed spending time with her new daughter-in-law, Cheryl.
Joyce is survived by her sisters, Delphine Longie (Alfred), and Tammy Allery (Leonard); two daughters, Tara Spottedbird (George), and Kenda Spottedbird (Mike); three sons, Vernon Spottedbird, Sr. (Cheryl), Kenneth Spottedbird, and Kevin Spottedbird; special niece, Faith Tomahawk; aunts, Elaine Robertson, Libby Littleghost, and Pauline Greywater; uncles, Andy Shaw, Soloman Sherman, Josie Lawrence, and Vincent Shaw.
Joyce was preceded in death by parents, Frank Tomahawk, Sr. and Josephine Tomahawk, and husband Fred Peltier; brothers, Alan Tomahawk, Frank Tomahawk, Jr., and William Tomahawk, Sr.; sisters, Charlotte Tomahawk, Janice Tomahawk, Cheryl Tomahawk and Lorraine Tomahawk; son, Franklin Spottedbird; daughter, Janel Spottedbird –Bocanegro, and grandkids, Kiara Green, Julia Diaz, and Sharese Feather.
Wake Service begins at 5PM, Wednesday, November 14, 2018 at the Ft. Totten Wellness Center, Ft. Totten, ND with a Rosary service at 8PM 
Funeral Service:  10AM, Thursday, Nov. 15, 2018 at the Fort Totten Recreation Center, Fort Totten, ND
Burial:  St. Jerome's Cemetery, rural Fort Totten, ND
Condolences are reviewed by staff.