Evans Funeral Home
"Compassionate Funeral Service"
Carrington and New Rockford, North Dakota
701.652.3003 or 701.947.2911
Secondary Number ~ 701.650.9937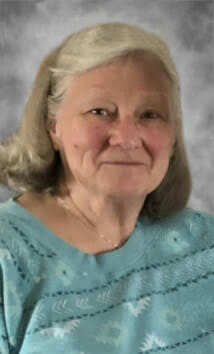 Carol Kelley Phillips, 77, passed away May 17, 2022 in her own home. She was born December 1, 1944 in Portland Oregon to Lester and Ethel Kelley. She grew up in Washington state and Virginia. She was preceded in death by her parents and survived by her husband John, three children, Cindy Donnelly, Kelly Ackerman, and Joanna Winston and her grandson Andrei Mistreanu. She was also survived by two brothers, Mike Kelley, Dean Kelley and her sister Zona Dawson.
She lived with her husband and children in Florida for 3 years, South Carolina for 29 years until retirement, and rural Eddy county for 15 years with her husband. She enjoyed fishing until she was unable to do so.
Carol was a homemaker and supported her family doing a wide variety of jobs. She enjoyed crafting and painting and participating in arts and craft shows.
Her faith in God was her anchor in life through the good times and the difficult times. She was diagnosed as having ALS in 2021. Her faith never wavered. It grew stronger.
Carol's Visitation will be Monday, May 23, 2022, from 9:30AM -10:30AM followed by a Funeral Service at 10:30AM all at Evangelical Free Church, New Rockford.
Her Burial will be at the Prairie Home Cemetery, New Rockford.
Condolences are reviewed by staff.