Evans Funeral Home
"Compassionate Funeral Service"
Carrington and New Rockford, North Dakota
701.652.3003 or 701.947.2911
Secondary Number ~ 701.650.9937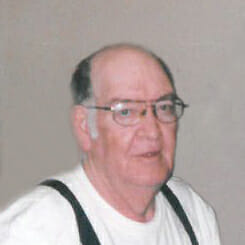 Gerald "Jerry" Pierce, age 74, of Carrington, ND, passed away Tuesday, April 30, 2019, at CHI, St. Alexius Health, Carrington.
Gerald Albert Pierce was born in Carrington on January 24, 1945, he was the son of Leonard and Violet (Schmidt) Pierce. Jerry attended school in Carrington and graduated from Carrington High School in 1963. Following a couple of years of working in the area he enlisted in the U.S. Army, September of 1965. While on duty he was stationed in Okinawa for 19 months and was honorably discharged in August of 1967.
Jerry was united in marriage to the love of his life Kathleen Marsolek on June 26, 1982, at Federated Church UCC/UMC in Carrington. Gerald owned and operated Jerrys Café in Carrington for 20 years. He was proud of the fact that all the food that he served was all handmade; Jerry never served frozen food to his patrons. Jerry closed the café in the 90's. Even though Jerry spent many hours cooking at the café, one of his favorite things to do at home with his family was to cook delicious meals.
Gerald had many interests throughout the years, he enjoyed hunting, fishing and being outdoors with Kathleen and their family. He was known in the neighborhood for having the best tulips and a well producing garden. Jerry and Kathleen liked their occasional trip to the casino and playing bingo. He was a member of both pool and dart leagues in Carrington for many years.
Jerry is survived by his loving wife Kathy; three stepsons, Cordell, Brent and Durand (Teddi) Birch; a brother, David (Phyllis) Pierce, Sidney, MT; a sister-in-law, Sharon Pierce, New Rockford, ND; along with many nieces and nephews.
He is preceded in death by his parents, one sister, Lillian (Les) Scheen; two brothers, Duane Pierce and LeRoy (Jackie) Pierce and one stepson Vincent Birch.
Visitation will be held one hour prior to the funeral at church.
Funeral Service will be Saturday, May 4, 2019, at 10:00AM in Federated Church UCC/UMC Carrington, ND.
Burial will be at the Kensal Cemetery, Kensal, ND. 
Condolences are reviewed by staff.