Evans Funeral Home
"Compassionate Funeral Service"
Carrington and New Rockford, North Dakota
701.652.3003 or 701.947.2911
Secondary Number ~ 701.650.9937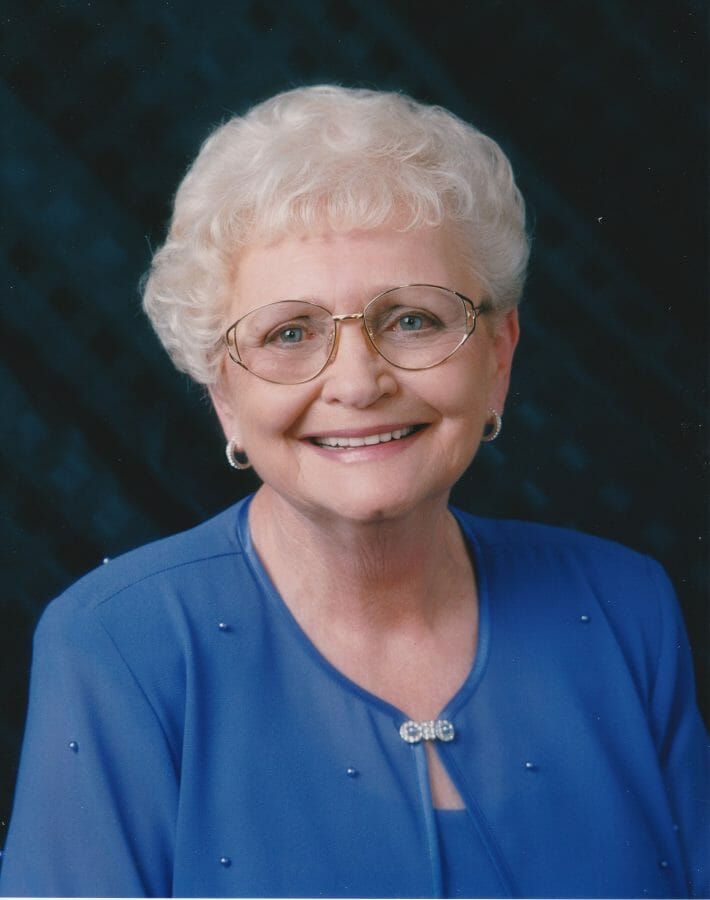 Sheila Polries, 85, of Bismarck, formerly of Sykeston, ND, died on January 26, 2019 surrounded by her family, after a short bout of the flu. Services will be held at 10 a.m. Saturday, February 2, at St. Elizabeth's Catholic Church in Sykeston. Visitation will be held from 3:00 – 6:30 p.m. Friday, February 1 at Evans Funeral Home in Carrington, where a rosary/vigil service will begin at 6:45 p.m.
Sheila Lee Barry was born to Theodore and Elsa (Kutz) Barry on Sept. 10, 1933 in Chicago, IL. Sheila was a big city girl, but loved spending summers visiting her cousins in Sykeston, ND. Soon after she graduated from Luther Institute High School in Chicago, she moved to Sykeston with her family to help operate a gas station/café called Tree-O-Non. She loved dances, card parties and good jokes. She met Donald Polries at a Firemen's Dance in Sykeston and they married on January 28, 1952.
Sheila's life changed dramatically when she became a farmer's wife. She learned quickly that almost everything enjoyable was centered around the kitchen table. She became a fantastic cook, and anyone who drove into the farmyard (salesman, veterinarian, neighbor, farm worker) was invited to join her family at mealtime. The kitchen table was full as they had eight children in 10 years. They worked together on their farm south of Sykeston for more than 40 years where they raised children, crops and cattle.
Sheila enjoyed bowling, reading novels and creative writing which included many long chore lists for her kids. She often wrote poems and was proud to be recognized in a local writing contest.
Sheila was very active in her church and community, volunteering at St. Elizabeth's Church where she was a member of the Altar Society and taught religion classes. She helped organize many events and fundraisers from developing cookbooks to hosting and cooking for large banquets. In 1993, they retired from farming and moved to Carrington, where Sheila was an activity coordinator at Carrington Health Center and then worked at the Garden Gate.
In 1996, Sheila moved to Mesa, AZ, and then to Coeur d' Alene, ID, to care for her mother. She moved to Bismarck in 2005 and enjoyed being close to many in her family. Sheila moved into St. Gabriel's Assisted Living Community in 2017 and was involved in several committees, recently serving as vice president of the resident council.
She had a variety of jobs throughout her life but was most proud of being a Mom, Grandma, and Great-Grandma. Family was most important, and holidays were always special. Feisty, funny, and friendly describe her best. Her ears would always listen, her heart would give advice, and her shoulder would hold your tears. She touched the hearts of many and will be missed.
Sheila is survived by her brother, Ted (Betty) Barry, Jr., Fort Wayne, IN; her children, Linda (Charlie) Donlin, Bismarck; Julie (Lyndon) Larson, Mesa, AZ; Peggy (Mark) Anderson, Bismarck; Patti (Bruce) Penas, Fargo; Larry (Cessna) Polries, Jamestown; Jon (Stephanie) Polries, Sykeston; daughter-in-law Kim Polries, Thompson; 22 grandchildren and 26 great grandchildren.
She was preceded in death by her parents; infant son, Donald Michael Polries; son, David Polries and great-grandson William Polries.
Visitation:  will be held Friday 3:00PM to 6:45PM with a Rosary at 6:45PM and a Prayer Service at 7PM all in Evans Funeral Home, Carrington.
Funeral Service:  will be held  Saturday, February 2, 2019, at 10:00AM in St. Elizabeth's Catholic Church, Sykeston, ND.
Burial:  will be held at the St. Elizabeth's Catholic Cemetery, Sykeston, ND.
Condolences are reviewed by staff.