Evans Funeral Home
"Compassionate Funeral Service"
Carrington and New Rockford, North Dakota
701.652.3003 or 701.947.2911
Secondary Number ~ 701.650.9937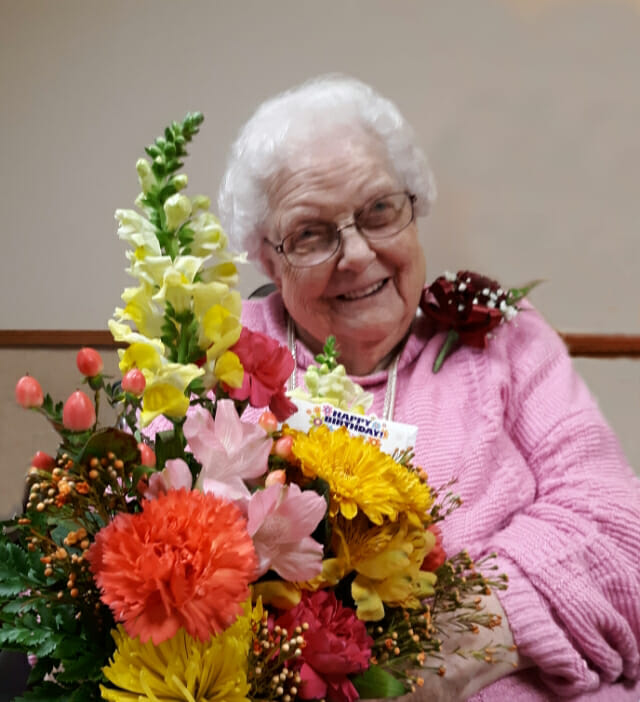 Mildred Leona Larson was born November 18, 1920, at St. Andrew's Hospital in Bottineau, ND, to Arthur A. and Minnie (Crandall) Larson. She grew up on her grandfather's homestead in the Turtle Mountains. She attended rural school and high school in Bottineau, graduating in 1938.
She married Walter H. Reinke on November 20, 1940, in Minot, ND. They made their home in Minot.  Walter was called for military service in 1942 to serve in WWII and Mildred and their baby daughter moved back to the Turtle Mountain farm with her family. She attended Minot State College and received her rural teaching certificate. They lived in Omemee and then Upham where they operated Reinke's Food Market and Locker Plant. They later farmed north of Bottineau before moving into Bottineau. Walter passed away in 1991.
Mildred worked in Physical Therapy at St Andrew's Hospital in Bottineau until she was 74 years old. Over the years she was active in American Legion Auxiliary, Homemakers, Circle, quilting at her church, 4-H and any activity her children were involved in. Walter and Mildred enjoyed traveling to Walter's yearly Army reunions.
Mildred moved to New Rockford in 2007 to be nearer to family. She was a member of First Lutheran Church in Bottineau and attended First Lutheran Church in New Rockford after her move. She lived at the Lutheran Home of the Good Shepherd in New Rockford since 2016.
Mildred is survived by her children, Bonnie (Duane) Deegan of Sheyenne, Margaret (Will) Brink of Bluffton, SC, Michael of Cando and Douglas (Kathy), her sister Eris Mae Johnson of Fargo, grandchildren, great-grandchildren, cousins, nieces and nephews.
She was preceded in death by her husband, parents, sister Irene, brother Arlan and son Ronald.
Visitation will be held one hour prior to the service.
Memorial Service will be held January 26th at 2:00PM at Lutheran Home of the Good Shepherd Chapel, New Rockford, ND.
Burial will be held at a later date in Oak Creek Cemetery, Bottineau, ND.
Condolences are reviewed by staff.