Evans Funeral Home
"Compassionate Funeral Service"
Carrington and New Rockford, North Dakota
701.652.3003 or 701.947.2911
Secondary Number ~ 701.650.9937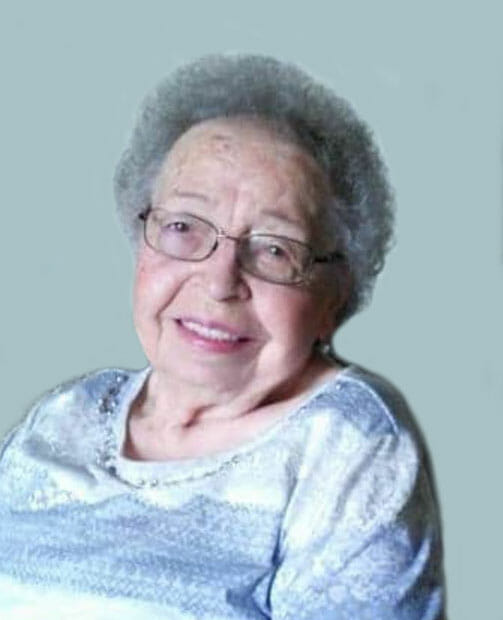 Alma Richter, age 97, of Carrington, ND, formerly of Sykeston, ND, passed away on July 27, 2020, at the Lutheran Home of the Good Shepherd, New Rockford, ND.
Alma Spitzer was born September 15, 1922, in Kief, North Dakota, the daughter of Fred and Paulina (Aichele) Spitzer.  She grew up and attended school until the 6th grade when she was expected to work on the family farm. Alma spent time taking care of the garden, milking cows and caring for the livestock on the farm.
On January 26, 1943, Alma was united in marriage to Nick E. Richter in Sykeston, ND.  They purchased a farm southwest of Sykeston where they continued to farm until 1976, when they retired.  They moved into Carrington in 1998.
Alma was a member of St. Elizabeth's Catholic Church and St. Elizabeth's Altar Society. Following their move to Carrington Alma and Nick joined Sacred Heart Catholic Church in Carrington.  She enjoyed crocheting, beading necklaces, working on various art projects, word searches, reading books, holiday gatherings and family visits.  Alma liked spending time gardening, baking, and tending to her flower garden.
She is survived by seven sons, Eugene (Mary) Richter, Dubuque, IA, Jerry (Deborah) Richter, Bella Vista, AR, Allen (Jan) Richter, Fargo, ND, Leon (Carole) Richter, Bella Vista, AR, Glen (Kathy) Richter, St. Louis, MO, Tim (Ann) Richter, Fargo, and Paul "Chip" Richter and special friend Patty Vivier, Carrington, two daughters, Evelyn (Gerald) Friezen, Brookings, SD and Julie (Brian) Mindt, Valley City; 22 grandchildren; many great-grandchildren and great-great grandchildren; two brothers, Arnold (Coral) Spitzer of Fulton, IL and Bert (Shirley) Spitzer of Clinton, IA.
Alma was preceded in death by her husband Nick, parents; three brothers, Ferdinand (Dee) Spitzer, Henry Spitzer and John Spitzer; two sisters, Leona (Francis) Richter and Laura (Sylvester) Richter; granddaughter, Meriah Raven; daughters-in-law, Nancy Richter and Kristeen Richter.
Visitation will be Thursday, 8:00AM – 7:00PM with a Rosary Service at 6:45PM followed by a Vigil Service at 7:00PM all at Evans Funeral Home, Carrington.
Her Mass of Christian Burial will be held Friday, July 31, 2020, at 10:30AM at Sacred Heart Catholic Church, Carrington.
Burial will be at St. Elizabeth's Catholic Cemetery, Sykeston.
Condolences are reviewed by staff.