Evans Funeral Home
"Compassionate Funeral Service"
Carrington and New Rockford, North Dakota
701.652.3003 or 701.947.2911
Secondary Number ~ 701.650.9937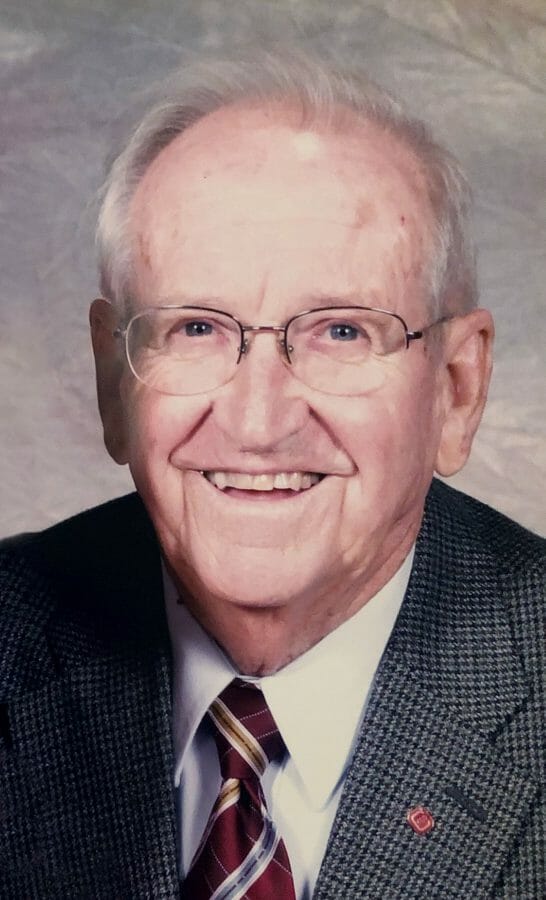 Olaf J. Ringerud passed away on July 24, 2021 at the age of 91, at CHI St. Alexius Health, in Carrington, North Dakota. He was born March 13, 1930 on the family farm in Enger Township, Steele County, North Dakota, to Olaf and Jennie Ringerud.  
In his youth, he attended country schools and Portland High School and was confirmed at Little Forks Lutheran Church. 
He graduated from Mayville State Teachers College with a Bachelor of Arts degree in Music Education in 1952. He met Muriel Jean Kjorness in college and married her July 17, 1953 in Mayville, North Dakota.
Olaf was an Army veteran, having served during the Korean War. He played trumpet in the 8th U.S. Army Band from 1952-1954 while stationed in Seoul, Korea. 
He earned a Master of Music Education degree from the State University of South Dakota in Vermillion in 1958.
Olaf started his music-teaching experience with 3 years of part-time instruction while a student in college. After graduating, he taught vocal and instrumental music in Anamoose, ND, for 2 years; Westhope, ND, for 3 years; then moved to Carrington in 1959 and taught for 28 years before retiring in 1987. 
Family was extremely important to Olaf. Together, Muriel and Olaf raised five children (Ona, Jenny, Mark, Peter, and John). 
He has been a member of several professional organizations including the National Education Association, North Dakota Education Association, Music Educators National Conference, and the North Dakota Music Educators Association which he served as president from 1967-1969. He was selected to the Music Educator Hall of Fame by the group in 1987.   
While in Carrington, his choirs toured many high schools in North Dakota, Minnesota and Winnipeg, Manitoba. These choirs also produced numerous Broadway musicals. He was proud of his music programs and all his students. His students participated in regional and state music contests earning many star ratings.
He also served as an adjudicator in music contests throughout North Dakota and Minnesota for 25 years, and has been a guest conductor at music festivals in North Dakota. 
Olaf became a registered piano technician in 1976. He was a member of the Piano Technicians Guild and tuned pianos for the International Music Camp and throughout central North Dakota. After retiring from teaching, he made piano tuning his full-time job. 
He was a member of the Carrington Trinity Lutheran Church. He served as the Senior Choir director for over 40 years. 
An avid golfer, Olaf won the Carrington city tournament in 1971 and taught golf lessons to many people over the years. He loved playing cards at the Senior Center. He and Muriel enjoyed traveling.   
He truly loved to visit with people throughout his life.
Olaf is survived by his wife of 68 years, Muriel. Five children, Ona Stoertz of Gross Lengden, Germany; Jenny (Todd) Grill of Plymouth, MN; Mark (Sarah) Ringerud of Columbia, MD; Peter (David Hill) Ringerud of Fargo, ND; and John Ringerud of Carrington, ND. Grandchildren, Jessica (Kristofer) Stoertz-Larsen, Daniel (Erin) Stoertz, Kyle (Melissa) Grill, Kelly Grill, Connor (Erin) Grill, Tanner (Jaime) Greenring, Ava (Eric Roberson) Ringerud, Alex Ringerud. And great-grandchildren Esmeralda Grill and Miles Greenring and one on the way.
Olaf is preceded in death by his parents Olaf and Jennie Ringerud, his brother Albert Ringerud, his sisters Pauline Owen and Marion Moen and son-in-law David Stoertz.  
Visitation will be August 6, 2021, Noon – 6:00PM with family present from 5:00PM – 6:00PM at Evans Funeral Home, Carrington.
Olaf's Funeral Service will be held Saturday, August 7, 2021, 10:00AM at Trinity Lutheran Church, Carrington.
His Burial will be at the Carrington Cemetery.
Condolences are reviewed by staff.