Evans Funeral Home
"Compassionate Funeral Service"
Carrington and New Rockford, North Dakota
701.652.3003 or 701.947.2911
Secondary Number ~ 701.650.9937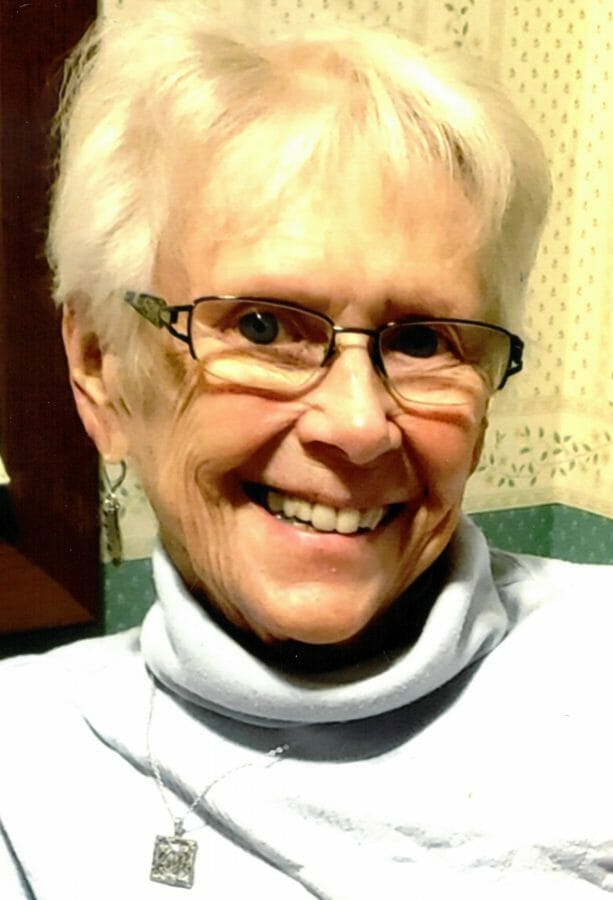 Carol M. Rosenau, age 80, of Carrington, ND, was called home Wednesday, May 8, 2019, surrounded by her loving family at CHI St. Alexius Health, Carrington.
Carol Mavis Tuntland was born August 2, 1938, on a farm in Grandfield Township, rural Sheyenne, ND. She was the daughter of Ivan and Myrtle (Lindstrom) Tuntland. Carol attended school and graduated from Sheyenne High School in 1956. She continued her education at North Dakota State Agriculture College (NDSU) graduating in 1960, majoring in Home Economics.
Carol met the love of her life, Jack Rosenau, in Carrington, while attending a dance at the Rainbow Gardens. He was driving a classy, black '59 Pontiac Bonneville, but that's not what attracted her. It was the handsome man behind the wheel. They were united in marriage on June 25, 1961, at Grandfield Lutheran Church, rural Sheyenne. Carol and Jack were blessed with three beautiful children; Jodi, Daniel, and Gaylen. Carol taught Home Economics in Cooperstown prior to staying home with her children. Carol returned to work in December 1989, working at Rosenau Equipment, Inc. for 27 years, until her retirement date in May 2016.
 Carol was very active in the community and her church. She was a member of the CHI Auxiliary, Federated Women's Guild, a 4-H Leader, Rosehill Township clerk, Everglad Homemakers, and Federated Church Board. Carol was the recipient of many awards, including Honorary C Club, Foster County Fair Honoree, and most recently, North Dakota CHI Auxilian of the Year. Carol was always on the go, following her children to sporting events, school functions, and life as a mother. She was very proud of her family. Her pride continued with each grandchild and great-grandchild. Each one was special to her in their own unique way. Carol and Jack rarely missed any events that their grandchildren were participating in, with her being the "official" statistician for each  grandchild. When sports were over for the season, she and Jack would take their annual excursion to Laughlin to spend time with her siblings.
Her home and heart were open to all of those who knew her. Carol will be remembered for her genuine heart, lending hand, open ear, and warm hugs.
She will be deeply missed by her loving husband of 57 years, Jack; her three children, Jodi (Dale) Burr, Daniel (Pam Spitzer) Rosenau, and Gaylen (Bonnie) Rosenau all of Carrington; ten grandchildren, Brandon (Tracy) Beckley, Dylan, Mason, and Joclynn; Derek (Kristen) Beckley, Wyatt, Russell, and Ruth; Kendra (Benjamin) Beach, Rhett and Aspen; Caleb (Rachel Macdonald) Burr; Justin (Kaitlyn) Rosenau, Graham, Porter, and Mavis; Melissa (Matthew) Ystaas, Aubree and Ethan; Tysen (Markie) Rosenau and Brayden; Sierra (Jay) Tweed and Jackson; Brooke (Easton Page) Rosenau, and Trey Rosenau; one sister, Ilo Fox and one brother Darrell (Carol) Tuntland; a sister-in-law Peggy (Ed) Smith; a brother-in-law Gary (Helen) Rosenau and many nieces, nephews, and close friends.
Carol was preceded in death by her parents, parents-in-law (Wilferd and Ruth Rosenau) and two brothers-in-law, Ray Freeh and Clare Fox.
In Lieu of flowers, please send memorials to either the Federated Church UCC/UMC, Carrington or CHI Auxiliary, Carrington.
Visitation: will be Monday and Tuesday 9:00AM-5:00PM at Evans Funeral Home in Carrington and will continue Tuesday at 6:00PM at the Federated Church UCC/UMC of Carrington followed by a Prayer Service at 7:00PM.
Funeral Service: will be held Wednesday, May 15, 2019 at 10:30AM at the Federated Church UCC/UMC, Carrington.
Burial: will be at the Carrington Cemetery.
Condolences are reviewed by staff.