Evans Funeral Home
"Compassionate Funeral Service"
Carrington and New Rockford, North Dakota
701.652.3003 or 701.947.2911
Secondary Number ~ 701.650.9937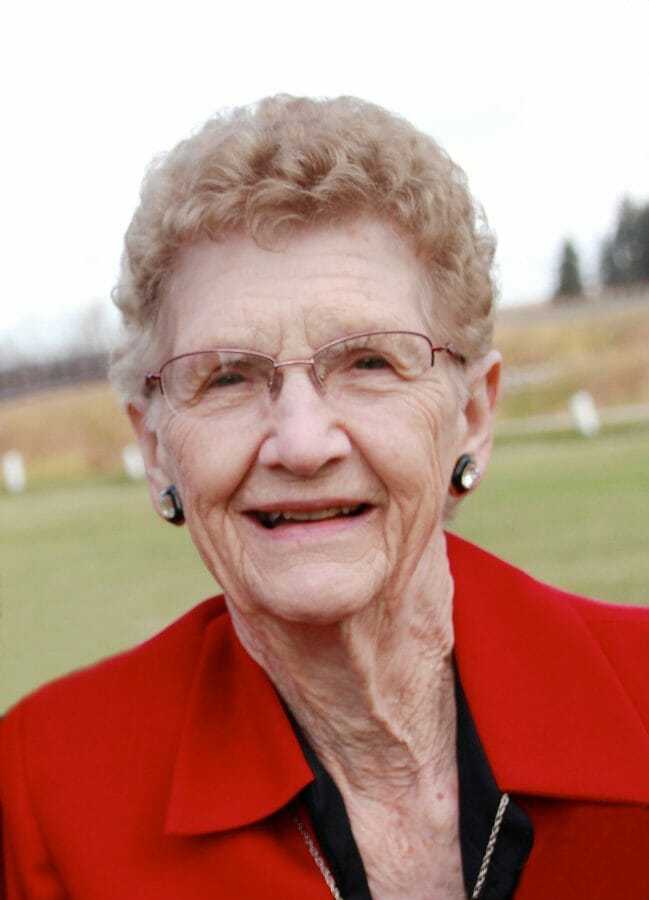 Gloria Bernice Rud, 88, of New Rockford, passed away on October 9, 2020, at the Lutheran Home of the Good Shepherd, New Rockford, ND.
Gloria was born October 11, 1931.  She attended rural school in Bush Township.  She graduated from Sheyenne High School in 1949.  Gloria then attended Minot Teachers College and taught rural school for six years.
Gloria married Norris Rud, August 3, 1951, at First Lutheran Church, Sheyenne, ND.  They farmed in the Sheyenne area where they raised three children.  Gloria was a typical farm wife.  She milked cows, helped in the field, always had a garden and loved flowers.  They moved to New Rockford, ND in 1989.  Norris and Gloria enjoyed many trips together thru Farmers Union.
Gloria was active in their church, Grandfield Lutheran, rural Sheyenne.  She was a Sunday school and Bible school superintendent and teacher.  Gloria was on the church board, sang in the choir and was very active in WELCA.
Gloria was a Farmers Union leader on both the local and county levels for 16 years.  She was a 4-H leader when her children participated in 4-H.
Gloria was employed off the farm as a waitress for a few years.  She worked at the Busy Bee Dept. Store, Sioux Manufacturing for 17 years and in the kitchen at the New Rockford Public School for 9 years.  She was also a janitor at East Central School and a receptionist for Evans Funeral Home.
Gloria is survived by her son, Neal (Deb) Rud, New Rockford; daughter, Sheryl (Gene) Heisler, Velva; grandchildren, Darcy (Geoff) Blegen, Kris Rud, Heather (Darrin) King, Kayla (Dusty) Lawson and Alyson Heisler; great grandchildren, Cambree and Grady Blegen, Preston and Camden King and Ethan and Ellie Lawson; and brother-in-law, Larry Stebleton, Minot.
She was preceded in death by her parents, Victor and Gladys (Fugleberg) Berglund; her husband, Norris; her daughter, Shirley; her brothers, Virgil, Charles, Roy and Larry; and her sisters, Doris and Diane.
Visitation will be Tuesday, from 9:00AM – 7:00PM followed by a Prayer Service at 7:00PM all at Evans Funeral Home, New Rockford.
Funeral Service will be held Wednesday, October 14, 2020 at 10:30AM at Grandfield Lutheran Church, rural Sheyenne, ND
Burial will be at the Grandfield Lutheran Cemetery, rural Sheyenne, ND.
Condolences are reviewed by staff.