Evans Funeral Home
"Compassionate Funeral Service"
Carrington and New Rockford, North Dakota
701.652.3003 or 701.947.2911
Secondary Number ~ 701.650.9937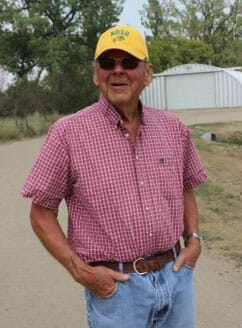 Phil was born on January 2, 1945 to John and Elsie Schafer in New Rockford, ND.  He attended St. James Academy until 8th grade and graduated high school from St. Thomas Military Academy in St. Paul, MN.  He attended Wahpeton Short Course and North Dakota State University before returning to the family farm.  He was united in marriage to the love of his life, Linda Lill, on November 27, 1965.  For almost 57 years, they worked side by side building a life, legacy and carrying on the 4th generation of Rhein Valley Farms.
Phil was an active member of the Elks in Devils Lake, Eagles in New Rockford, North Dakota Stockmen's Association, National Cattlemen's Beef Association, Wells County Water Board, Wells County Soil Conservation Supervisor, Wells County Better Seed and Grain Board, New Rockford Rural Fire Dept. Board Member.  At St. Joseph's Catholic Church, he served as a Parish Council Member and taught religion classes. Phil and Linda were the recipients of the Wells County Harvest Bowl award in 1991.
Phil spent his whole life in production agriculture and livestock.  His strong faith guided him through these times.  He embraced technology changes and appreciated some more than others (heated cabs for winter morning chores).  His infectious smile and sense of humor was loved by all he touched.  He was a role model for work ethic, determination, responsibility, and positive attitude.
Above all, he adored his wife and family. Phil spent hours playing cards and dice with his family and passing on the tradition.  In his younger years, he spent a lot of time on horseback. His love of horses was passed down through the generations. Phil and Linda could often be seen going for ranger rides to check pastures and crops. Punctuality was important to Phil. He could often be heard saying that the bus is leaving whether you're ready or not. Phil was the entire family's biggest cheerleader and best storyteller.
Phil was a man with a big, strong heart. We witnessed that as he battled health challenges, and the last one called him home.  Phil died on October 25, 2022 surrounded by family at the Lutheran Home of the Good Shepherd in New Rockford, ND.  We will forever miss the wonderful husband, father, grandpa, and great-grandpa but will cherish his wings from above.
Phil is survived by his loving wife, Linda; children: son Jeff (Leann) Schafer, New Rockford, ND; daughters Brenda (Dean) Krogen, West Fargo, ND; Pam (Todd) Johnson, Fargo, ND; DeeAnn (Eric) Bock, Belfield, ND; grandchildren:  Chelsey (Kyle) Erdmann, Colten Schafer, Corey Schafer, Stephanie (Blake) Krueger, Lindsey Krogen, Elizabeth Krogen, Isaac Johnson, Emma Bock, Eli Bock; great-grandchildren:  Kade, Karsyn, Kooper Erdmann, Baby Krueger Jan. 2023; and sister Phyllis (Frank) Rausch, Kalispell, MT.  He is preceded in death by his parents, John and Elsie Schafer and grandparents.
Family would like to thank Dr. Geier and his staff, the Lutheran Home of the Good Shepherd, Hospice, and Evans Funeral Home for their love and care.
In lieu of flowers, donations can be sent to the Rural New Rockford Fire Department or St. Joseph's Catholic Church Cemetery.
Phil's Visitation will be Friday from 1:00PM-5:00PM at Evans Funeral Home and will continue from 6:00PM-7:00PM with a Rosary Service at 6:40 followed by a Vigil Service at 7:00PM all at St. John's Catholic Church, New Rockford.
A Mass of Christian Burial will be held Saturday, October 29, 2022 at 10:30AM at St. John's Catholic Church, New Rockford.
His Burial will be at St. Joseph's Catholic Cemetery, rural Bremen, ND.
Condolences are reviewed by staff.