Evans Funeral Home
"Compassionate Funeral Service"
Carrington and New Rockford, North Dakota
701.652.3003 or 701.947.2911
Secondary Number ~ 701.650.9937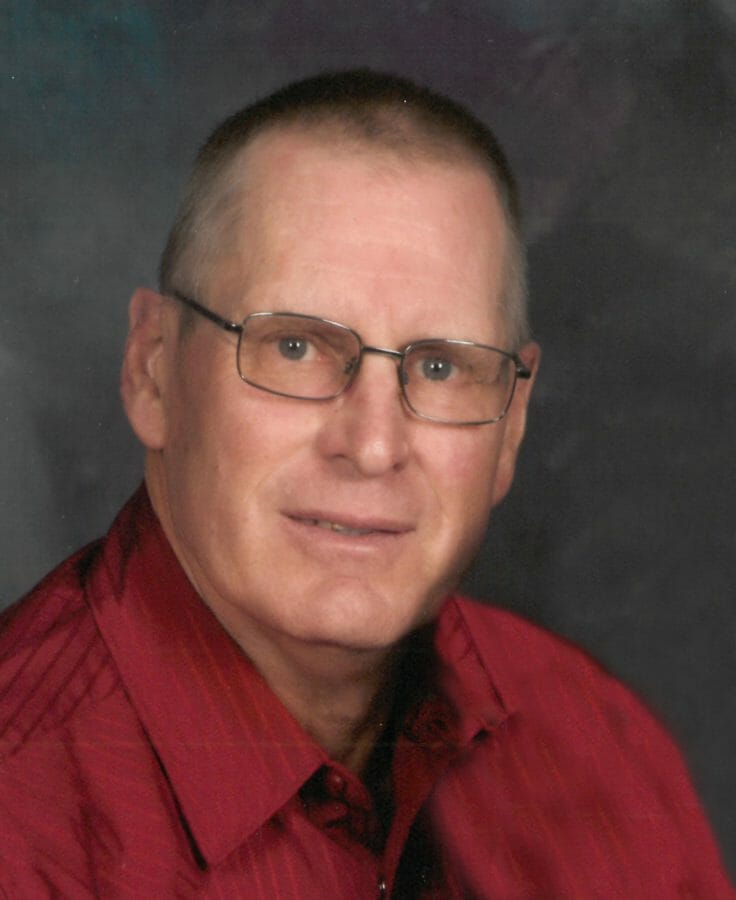 James Sears, age 72, of Carrington, formerly of Aneta, ND, died peacefully, Thursday, December 2, 2021 at Golden Acres Manor, Carrington after a valiant battle with cancer in 2015 and then a two-year battle with ALS.
James Daniel Sears, was born August 8, 1949, in Sharon, ND, to Harvey and Mary Jane (Zimprich) Sears. James attended school in Sharon through elementary, continuing his education and graduating from Aneta High School in 1967.  He was baptized, attended church, was confirmed and married in Sacred Heart Catholic Church, Aneta, ND.
Upon graduation James attended NDSU. He then returned home to work on the farm; ranching, farming and attending the dairy cows. James was united in marriage to Mary (Reilly) Nelson, November, 7, 1975; gaining both a wife and a son Nicholas. James and Mary were blessed with four beautiful daughters, Joanna, Kathleen, Bridget and Teresa. His family was always the most important part of his life. They raised their family and stayed on the farm until 2018. James and Mary then moved to Grand Forks until August 2021, when they relocated to Carrington.
He worked on the farm raising cattle, turkeys and small grains. From 1992 -1997 James worked for Huso Farms in Aneta. He drove bus for many years for both Dakota Prairie and Northwood Schools. James had also worked at Twete Inc. as a parts man in McVille.
He was a member at Sacred Heart Catholic Church in Aneta, a church trustee and treasurer. He was a third-degree Knight and a member of the Knights of Columbus. James was on the Griggs County Library board, the Sheyenne Valley Co-op advisory council and the St. Lawrence Parish Council. He was also active on the Aneta Fire District as Secretary and Treasurer and the Treasurer for the Lenora Township.
James is survived by his loving wife of 46 years Mary; five children, Nicholas Sears (Paula Lovgren), Moorhead, MN, Joanna (Brent) Lee, Carrington, Kathleen Sears, Maddock, ND, Bridget (Jared) Matt, Carrington, Teresa (Travis) Stepan, Robbinston, ME; nine grandchildren, Justin Lee, Tyler Lee, Elizabeth Lee, Nicole Lee, Abigail Lee, Jennie Lee, Reilly Matt, Andrew Matt, Sophia Stepan and many cousins.
He was preceded in death by his parents Harvey and Mary Jane Sears; several aunts, uncles, and cousins.
In lieu of flowers, the family requests that Masses be said for James, or a donation given to your favorite charity.
A Visitation will be Sunday, from 5:00PM-7:00PM followed by a Rosary & Vigil Service at 7:00PM all at Evans Funeral Home, Carrington.
James' Mass of Christian Burial will be held Monday, December 6, 2021, at 10:30AM at St. Lawrence Catholic Church in Jessie, ND.
His Burial will be at Sacred Heart Catholic Cemetery, Aneta, ND.
Condolences are reviewed by staff.