Evans Funeral Home
"Compassionate Funeral Service"
Carrington and New Rockford, North Dakota
701.652.3003 or 701.947.2911
Secondary Number ~ 701.650.9937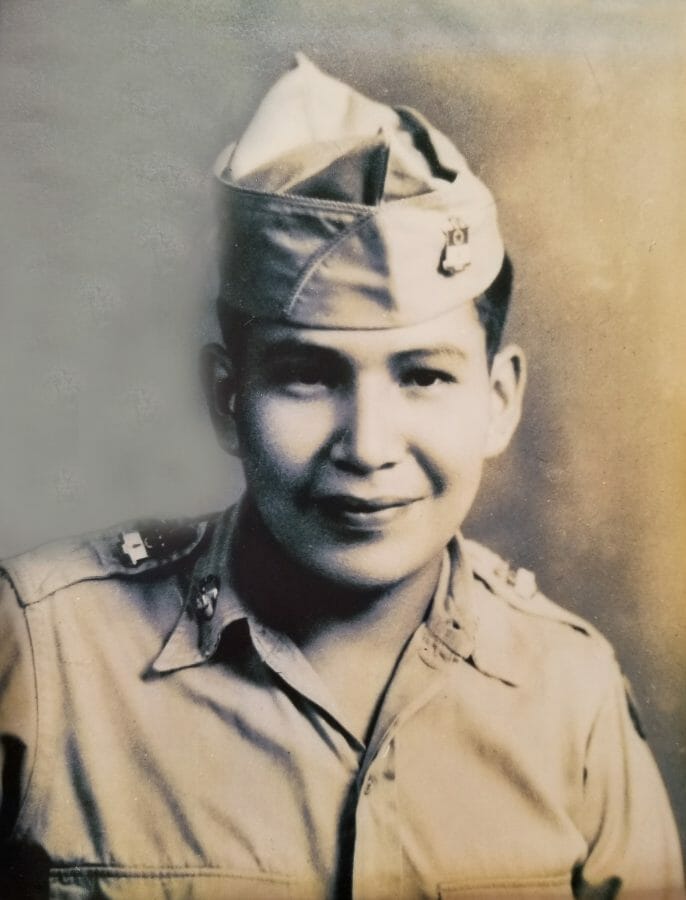 Fondly known to all as "Andy "passed away on Monday January 4, 2021 at Altru Hospital in Grand Forks, ND at the age of 90.  Andy was born at home in Lallie Township, Benson County, North Dakota, he was the son of the late William Shaw Jr. and Lillian Rainbow Shaw. He leaves behind his dear sister Ardis Shaw and Brother Vincent Shaw (Janice).  He was the loving father of son Whalen Bud Shaw, Sr. (Renita), daughter Corrie Shaw. He was cherished grandfather to 20 grandchildren and 24 great grandchildren.  Andrew is survived by several nieces, nephews, other loving family and friends.
Andy grew up in the Ft. Totten area of the Spirit Lake Reservation, as a child attended the Ft Totten School.  At the age of 10 Andy stayed and worked on a farm to help his mom raise his siblings. Andy said he joined the US Army in September 1948 at the age of 18 to see the world however very shortly after enlisting the Korean War broke out.  He was stationed in Japan with the 24th Infantry Division when North Korea invaded South Korea.  His third Battalion, 21st Infantry were among the first to arrive to delay North Korean forces while the allied forces could establish defensive positions in the South.  "We were the closest to Korea," he shared, he arrived in Korea on July 4, 1950.  His battalion met with North Korean forces in the Battle of Chochiwon where he and more than 200 men were taken prisoner from his regiment. Andrew was captured by the enemy July 12, 1950, he and fellow US soldiers were forced to march through mountains and snow, known as the Tiger Death March.  Andrew carried a fellow soldier Floyd Pandarvis for three days after they beat him so bad he couldn't walk. In later years they became close friends and sadly Pandarvis passed this last June.  Both men received the Purple Heart.   Andy was a prisoner of war for 37 months and was finally released in August 24, 1953 and returning home in October 16 of that same year.   Corporal Shaw received the Prisoner of War Medal in 2007 as presented by Senator Byron Dorgan and on June 12, 2015 Senator Heidi Heitkamp presented him with the Purple Heart.  He was honored and recognized for his bravery, sacrifice, meritorious service and patriotism to our nation.
Upon his return he married Angelina Littleghost in 1958, then starting their family.  His joy and past times were fishing, hunting and was known as a saddle bronc Champion.  In December of 1990 he was married to Patricia Ann Cree they enjoyed gardening and traveling to powwows on the ND reservations.   Patricia died February 2003.  Andy began his dedicated work career for the Ft. Totten Housing Authority in maintenance, later as supervisor retiring after 20 plus years of service.  Andy was a very caring and generous man who had a great sense of humor and looked out for those he loved.  He loved putting smiles on the faces of those closest to him.  Most importantly he loved and cherished his family and special moments he shared with them.  In his retirement years he spent time helping his family members, community friends with advice and small projects.  He was an active member of the St. Thomas Episcopal Church. It was his tradition and value of respect to show his love of America by flying his POW flag and his American flag proudly.
He is preceded in death by his grandparents Bernard and Carrie (White) Rainbow, his parents, his sisters Vivian and Hazel, Brothers William Jr. and Roger.  Uncles Joe Rainbow Sr., Andrew Rainbow, and Julius Rainbow, Sr., his Aunts Dora Gray and Hermania McKay.  His wives Angeline Littleghost and Patricia Cree. His beloved son Vernard Neil Shaw and infant daughter Stana Lynn Shaw. Grandsons Tobias, Whalen and Andrew Shaw, Sr…
Dad is now at peace and though we will miss him dearly we thank God for the many blessings he has given his children, grandchildren and great grandchildren.
Active Pall bears: Aki'cita
Honorary Pall bearers: community members of the four Spirit Lake districts Crow Hill, Ft. Totten, Woodlake and Mission.  Andy was warmed and thankful for the respect and friendship everyone shared from each community with him during his life time.
In recognition of Andrew's life all night wake services with viewing and Honor Guard beginning at 3 pm
Sunday, January 10 at the Auditorium of the Spirit Lake Casino.  Friends may join the procession coming from New Rockford on Sunday at 2:30 pm at the Andy Shaw Road.  His prayer and memorial service will begin at 5 pm with honoring meal provided by the Casino to follow.  Funeral Services will be held at the Auditorium beginning at 10 am Monday, January 11 celebrated by Rev. Larry Thiele and Deacon Tony McDonald.  Immediately following our meal and giveaway, we will begin the procession to his internment at the Presbyterian/St. Thomas Episcopal Cemetery, rural Ft. Totten.
Covid-19 health safety precautions will be followed at any of the services including social distancing and masks required at all times.  Please keep the health and safety of you and others in mind when attending.
Wake will be Sunday, January 10, 2021 at 3:00PM followed by a Prayer Service at 5:00PM all at Spirit Lake Casino Auditorium, St. Michael, ND.
Friends wishing to join the procession from New Rockford to St. Michael may gather at Andrew Shaw's home, Fort Totten, prior to 2:30PM.
Funeral Service will be held Monday, January 11, 2021 at 10:00AM at Spirit Lake Casino Auditorium, St. Michael, ND.
Burial will be at the St. Thomas Episcopal Cemetery, Fort Totten, ND.
Condolences are reviewed by staff.