Evans Funeral Home
"Compassionate Funeral Service"
Carrington and New Rockford, North Dakota
701.652.3003 or 701.947.2911
Secondary Number ~ 701.650.9937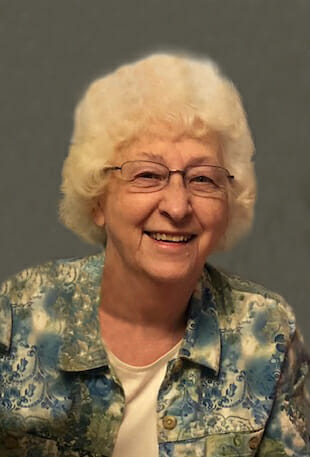 Norma Stangeland, age 87, of Carrington, ND, passed away on Sunday, October 13, 2019, at Golden Acres Estates, Carrington, ND.
Norma was born on August 22, 1932, the daughter of Henry and Mabel (Anderson) Pedersen.  She attended grade school in rural Foster County and then went to Carrington High School.  After graduating, she attended Concordia College for one year.
On March 17, 1955, Norma married Kenneth Stangeland in McHenry, ND.  They resided in Juanita for 35 years, where they enjoyed a life of farming.  They had a daughter, Sue and two sons, Rodney and Douglas.
In 1990, Norma and Kenneth purchased a home in Carrington.  She enjoyed attending basketball, baseball, football and volleyball games to watch her grandchildren.  They enjoyed traveling and playing bridge.  She was involved in the Trinity Lutheran Church in many ways; her favorite was quilting on Monday afternoons. For many years, she enjoyed going to the Senior Citizen Center to socialize, eat and play cards, games and bingo.  Her gardening, flowers and family were very important to her.  She was always ready for a holiday family game of Scrabble.  She kept herself busy by doing jigsaw puzzles and reading.
Norma is survived by a daughter, Sue (David) Swanson, Carrington, ND; two sons, Rodney (Brenda) Stangeland, Plymouth, MN and Douglas (Cody) Stangeland, Carrington, ND; six grandchildren, Lynnette (Michael) Ophaug, Andrew (Heather) Swanson, Karisa (Dan) Polson, Brett Stangeland, Randy (Sara) Kollman and Justin (Brooke) Kollman; seven great-grandchildren, Jonah, Hadley and Piper Swanson, Madelyn Polson, Lucy Kollman , Jayce and Easton Kollman; one sister, Gloria Sparrow, Spearfish, SD; and many nieces and nephews.
She was preceded in death by her husband; her parents; one sister, Bonita (Pedersen) Borge; and two brothers, Arlen and Stanley Pedersen.
Visitation will be Thursday, 5:00PM – 7:00PM at Evans Funeral Home, Carrington and one hour prior to the funeral at church.
Funeral Service will be held Friday, October 18, 2019, at 9:30AM in Trinity Lutheran Church, Carrington.
Burial will be at the Carrington Cemetery.
Condolences are reviewed by staff.