Evans Funeral Home
"Compassionate Funeral Service"
Carrington and New Rockford, North Dakota
701.652.3003 or 701.947.2911
Secondary Number ~ 701.650.9937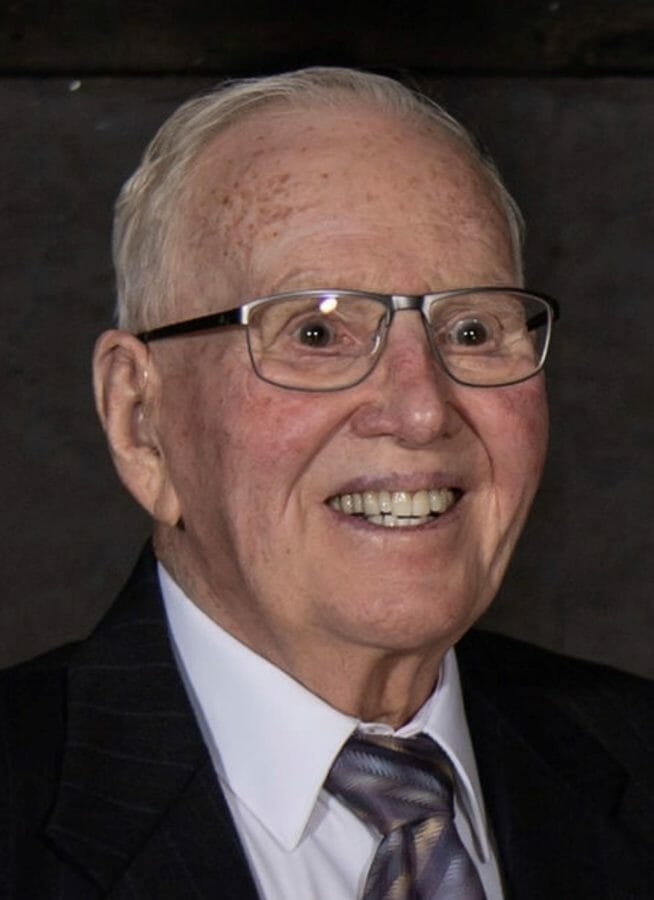 Roy Burton Taylor, age 90 former resident of New Rockford, ND passed away Tuesday, October 27, 2020, at his home in Bismarck, ND.  Roy was born December 10, 1929, in Napan, New Brunswick, Canada to Mac and Connie Taylor. He grew up on the family farm and attended school in Napan until he moved to Eddy County as a young teenager. He worked with his uncle and aunt, Archie and Jessie Campbell on the ranch. Roy served in the United States Marines and was proud to be a Canadian serving in the United States military. While on the way to Korea, the war ended and Roy spent time abroad during his tour of duty. Following his honorable discharge, he returned to New Rockford and worked with Archie Campbell Construction for the majority of his working life. Roy enjoyed cleaning the streets of New Rockford following blizzards while he was working with his uncle's business. Roy was asked to do painting at the Lutheran Home of the Good Shepherd one winter and that turned into a full-time maintenance job where Roy became the director of maintenance.
Roy met Doreen Ann Lee through Doreen's brother Roger. They married on September 8th, 1957 at First Lutheran Church in New Rockford. They continued to live in New Rockford where they raised their four children. Roy enjoyed watching the New Rockford Rockets as well as many professional sports teams. Doreen often said that two animals could be playing basketball on the driveway and Roy would be out watching them. Later in life, Roy took up golf and enjoyed playing as much as the weather would allow.  He was excited to be able to buy rounds of drinks following his two holes in one. One of the best weeks of the last 24 years for Roy was their annual Taylor Week at the lake. The stories of Roy riding jet ski are epic!
Roy was a member of First Lutheran Church, the Eagles, the New Rockford Golf Club, and the American Legion. He was always willing to serve as needed.
Roy and Doreen continued to live in New Rockford until 2017 when they moved to 2014 Bayhill Loop, Bismarck.
Roy is survived by his wife of 63 years, Doreen, his children Mary (Sheldon) Weltz Bismarck, ND, Steven (Tita) Phoenix, AZ, David (Dawn) Grand Island, NE and Daniel, Valley City, ND. He enjoyed his grandchildren Stephanie, Leah (Derrick) Kessler, Anthony, Tonya, Zackary, Lauren, Madison, McKenna, Mitchel, and Miles. Roy also greatly enjoyed his three greatgrandchildren Laikyn, Kenzly, and Jaxon Roy. He is also survived by his brother Keith (Phyllis), Betty (Milt) McInnis, sisters-in-law Dorothy Taylor and Liz Taylor, brothers-in-law Dennis McDonald and  Roger (Verna) Lee, and many nieces and nephews.
Roy was predeceased by his parents Mac and Connie, as well as siblings: Eldon, Malcolm, Jessie, and Roland.
In lieu of flowers, donations made to the charity of the donor's choice would be appreciated by the family.
Roy's service will be recorded and be able to be viewed on this page at a later date.
Visitation will be Saturday, October 31, 2020, 9:00AM-5:00PM  at Evans Funeral Home, New Rockford.
 Private Funeral Service will be held Sunday, November 1, 2020 at First Lutheran Church, New Rockford, ND.
Burial will be at the Prairie Home Cemetery, New Rockford, ND.
Condolences are reviewed by staff.