Evans Funeral Home
"Compassionate Funeral Service"
Carrington and New Rockford, North Dakota
701.652.3003 or 701.947.2911
Secondary Number ~ 701.650.9937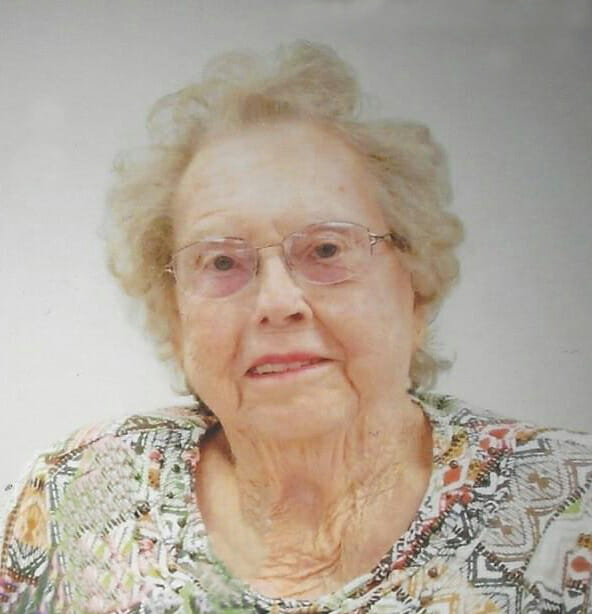 Ida was a life-long resident of the New Rockford/Sheyenne area before moving to Northwood, ND in June of 2013.  Ida Tedrow, 91, passed away Wednesday, May 29th, 2019, at the Northwood Deaconess Health Center, Northwood, ND.
Ida was the daughter of Sever and Signe (Benson) Tveito.  She was born February 26, 1928, on the family farm in Gates Township southwest of Sheyenne, ND.  Her education began in 1934 at the Divide Country School and graduated from Sheyenne High School in 1946.  She had a good work ethic and enjoyed her years of employment with the County Auditor and Register of Deeds Offices for Eddy County. 
On March 26, 1955, Ida was united in marriage to William (Bill) Tedrow and became a devoted farm wife and full time mom to Dennis, Randy, Becky, Kathy and Shelly.  She and Bill worked together farming their land, tending their livestock and raising their family of five.  She enjoyed gardening, sewing, quilting, canning, bowling and having coffee and conversation with family and friends.  Many times an extra plate or two were added to the table so a meal could be shared and conversation could continue.  Ida was a mom that made the time to show and teach her children life skills. All of her grandchildren received a homemade baby quilt stitched with love; many of these quilts became the "blankie" of choice and a few even needed her touch for repair. 
Ida was very good at mechanical fixes and managed new technology rather well.  She loved following her family and friends on Facebook and recorded family history to pass down; it meant so much to her to stay in touch.  Her business skills served her well.  She was an active member of the Tiffany Ladies Aide and First Congregational Church Women's fellowship.
Ida is survived by her children: Randy of Carrington, ND; Becky (Loren) Drege of  LaMoure, ND; Kathy (Joe) Schuchard of  New Rockford, ND; Shelly (Terry) Hagen of  Northwood, ND; 15 grandchildren; 20 great-grandchildren; sister-in-law Joyce Tveito, Mandan, ND; and several nieces and nephews. 
She is preceded in death by her parents, husband Bill, son Dennis, daughter-in-law Janice, grandson Gerard Schuchard and siblings Ted, Art, Pete, Ben, Sam, Jens, Gehard, Ervin, Ivar, Bert, Mike, Lewis, Sena, Anna and Thelma.
Visitation will be Sunday, June 2, 2019 from 5:00PM- 7:00PM, with a Prayer Service at 7:00PM all in Evans Funeral Home, New Rockford, ND.
Funeral Service will be held Monday, June 3, 2019, at 2:00PM in First Congregational Church, New Rockford, ND.
Burial will be held at the Riverside Cemetery, Sheyenne, ND.
Condolences are reviewed by staff.