Evans Funeral Home
"Compassionate Funeral Service"
Carrington and New Rockford, North Dakota
701.652.3003 or 701.947.2911
Secondary Number ~ 701.650.9937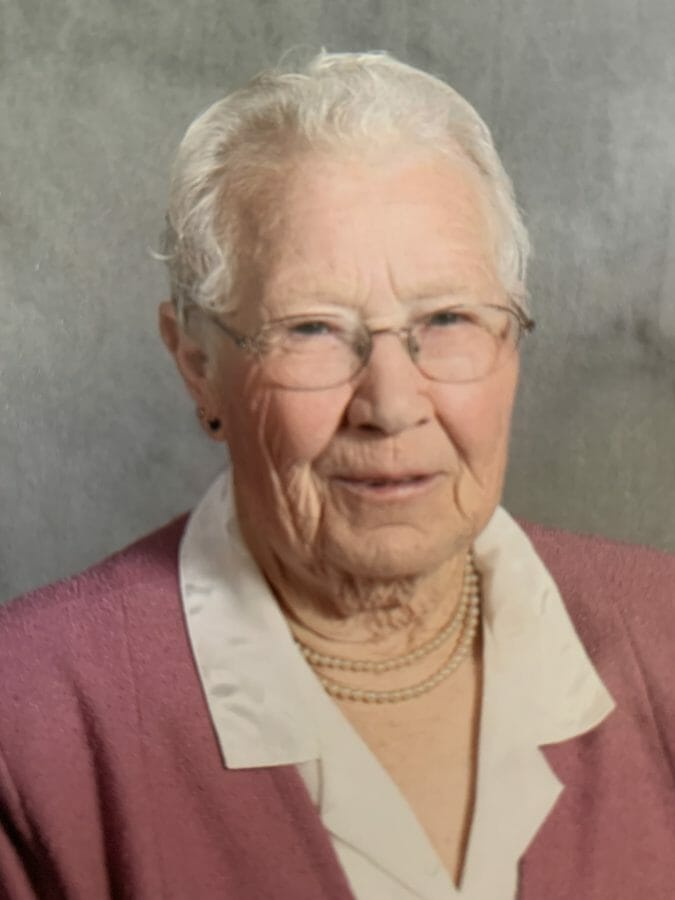 Janice Ardele (Highley) Thompson, 92, from Glenfield, North Dakota, passed away on May 12, 2021, in Mandan, ND.  She was a devoted member of Sts. Peter and Paul Catholic Church and served faithfully with the Alter Society.
Janice was born on August 3, 1928, in Melville, ND to Clara (Zink) and Emmette Highley.  She attended grade school in Melville and graduated from Carrington High School in 1946.  She attended three years at Jamestown College and graduated from Valley City State.  Janice taught in Foster County schools for thirty-three years including combined rural classrooms, primary and upper grades as well as high school.  Her first teaching contract was for $210 per month which included doing her own janitorial work!
In 1952, she married Melvin Thompson and moved to the Thompson farm near McHenry, ND.  They divorced in 1980.   Janice was a very active participant in the farming responsibilities.  She was capable of running all farm equipment and helped seed, hay, summer fallow and harvest.  Janice especially enjoyed the animals and took great care in raising sheep, turkeys, chickens, cattle, and especially…. her beloved cats!  In addition, there was always a pony there for the many nieces and nephews to fight over. In the farmhouse, plenty of toys and books kept kids busy while Janice prepared wonderful meals in minutes.  Homemade pickles, jams, and bread, along with garden vegetables, were always on the table only to be followed by her scratch cakes and desserts which we all savored.
Church, community, and friends were very important to Janice and she enjoyed sharing thousands of photos that she took at local weddings, showers, ballgames, etc.  Her creative gift-giving, crafting, letter-writing, and kindness will be greatly missed.
Janice was so proud of the many accomplishments of her neighborhood farm kids – Thompsons, Frappiers, Smiths, and Pounds.  Even after moving to Glenfield in 1980, she always kept in close contact with her farm neighbors while enjoying her wonderful new neighbors in Glenfield.
Janice will be greatly missed and remembered by her niece, Monica (David) Hartsoch, grandson Klint (Tina) Hartsoch and their children, Skylar (Adam) Reiff and Karter Hartsoch, along with her brother Pete's children: Keith Highley, Tom Highley, Kathy (Jim) Sleeper and numerous Thompson nieces and nephews.
She was preceded in death by her parents, brother Pete Highley, sisters -Marion Krakowski and Rena Everly, nephews – Ernest Highley and Larry Highley, and great-grandson, Tanner.
A Visitation will be Thursday, May 27, 2021 from Noon – 5:00PM with family present from 4:00PM – 5:00PM at Evans Funeral Home, Carrington.
Her Mass of Christian Burial will be held Friday, May 28, 2021 at 10:30AM at Sts. Peter & Paul Catholic Church, McHenry, ND.
Her Burial will be at the Carrington Cemetery.
Condolences are reviewed by staff.