Evans Funeral Home
"Compassionate Funeral Service"
Carrington and New Rockford, North Dakota
701.652.3003 or 701.947.2911
Secondary Number ~ 701.650.9937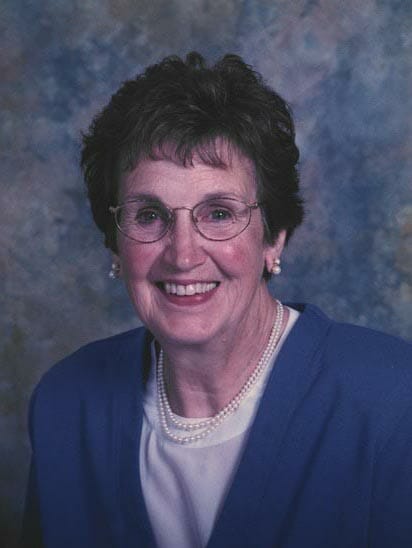 Rosemary Voglewede, one hundred years of age, passed away peacefully on July 8, 2022, in her rural Carrington home, attended by her children.
Rosemary Gertrude Durivage was born in 1922 in Toledo, Ohio. She was the youngest of three children born to Raoul and Loretta (Bergmann) Durivage. Her mother died in l929 when she was only seven, and for a time she and her siblings lived with relatives. She attended Gesu and Ursuline Catholic schools in Toledo, and graduated from Mary Manse College with a B.A. in French and Art. While in high school, she lived in a house with only her older brother Donald and sister Berneta. She remembered that time with great fondness. In August of l939, the three of them drove to New York City to see the World's Fair. They also went north to Montreal and Ottawa, visiting their great aunt, Soeur St. Victor, a Grey Nun of Ottawa. They came home by way of Thousand Islands and Niagara Falls. The entire trip cost just $125 for the three of them.
Through the Catholic Action Movement in Toledo, Rosemary met her best and life-long friend, Ruth Voglewede, who brought her to Decatur, Indiana, to meet several brothers. Rosemary married one of them, William, while he was an intern at the Navy Medical Center in San Diego, on November 4, 1944. He was serving in the South Pacific when their first child, Mary Therese, was born in August of 1945. After the war, Bill and Rosemary visited several Midwest locations before moving to Carrington where Bill set up practice in 1946. The good Presentation Sisters who ran the hospital had much to do with their decision to make Carrington their home.
Bill and Rosemary were generous parents. In late 1957, they moved their growing family north of Carrington where their many children had the run of 40 acres.  Bill kept horses, and raised pheasants, turkeys and bees. Their household was always open to friends and "adopted" children.  Rosemary was a superb mother and a wonderful cook.  She fostered an appreciation for art and music in her sons and daughters. When the youngest was in school, she taught French and Art at Carrington High School for a few years.  In the 1970s she was an actor in the local Lynn Peterson Theater Group, offering the public "The Fantasticks" and other productions. When she had any spare time, she fostered her artistic talent, took harp lessons, started and led a book club for 16 years, and was chosen to contribute a mural to the Courthouse for Foster County's centennial year in 1983; it can be seen there today. She was an active member of the Carrington Hospital Auxiliary, and a member of the Altar Society at Sacred Heart Parish. She donated her time to the kitchen there, and loved quilting with her friends in the church hall.
As social and outgoing as she was, Rosemary loved the home first, and was most proud of her 14 children. She will be deeply missed by them: Mary T., Moyie Springs, ID; John (Mary Ann), Milton, DE; Timothy (Corrine), Orofino, ID; Paul (Vicki), Double Oak, TX; Anne Voglewede Green, Fargo, ND; Jane (David Abbott), Fargo, ND; Stephen (Br. Bertrand Vogelweide), Richardton, ND; Michael (Ginger), Northwood, ND; Joseph (Leann) Carrington, ND; Charles (Leslie), Grand Island, NE; William (Edye), West Fargo, ND; Barbara (Kim Dohrman), St. Petersburg, FL; Thomas (Lynne) Carrington, ND; and Robert (Stacey), Fargo, ND, along with 25 grandchildren, 32 great-grandchildren and numerous step grandchildren and great-grandchildren.
She was preceded in death by her parents, her husband William, her grandson Damian, her granddaughter Mara, and her sons-in-law Howard Harms and Ted Green.
Rosemary's Mass of Christian Burial will be held on July 22 at 10:30 a.m. at Sacred Heart Catholic Church, Carrington, ND. Her Burial will be at the Carrington Cemetery.
Memorials are preferred to CHI Health at Home Hospice Carrington, or to Carrington Public Library.
Condolences are reviewed by staff.