Evans Funeral Home
"Compassionate Funeral Service"
Carrington and New Rockford, North Dakota
701.652.3003 or 701.947.2911
Secondary Number ~ 701.650.9937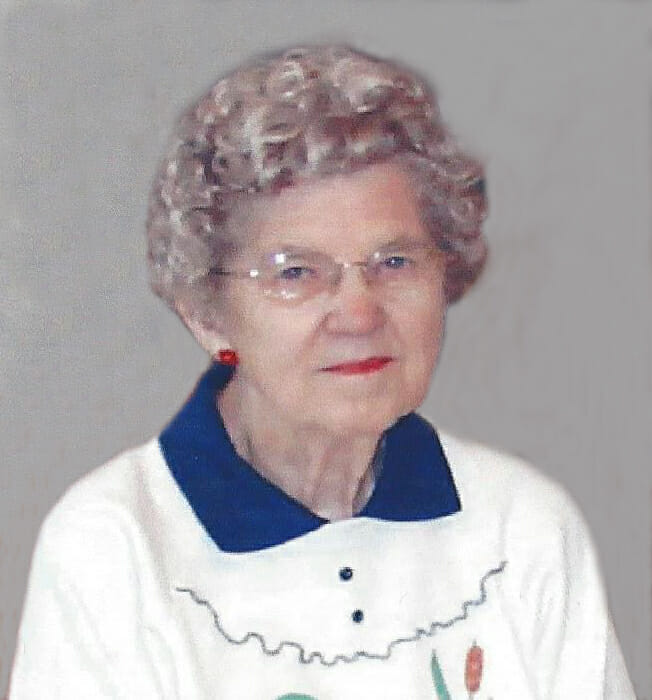 Ida Phyllis Wahlstrom, age 92, died on March 11, 2019, at Bethany on University, Fargo, ND.
Ida Phyllis Wahlstrom was born on November 7, 1926, in Sheyenne, ND, to Oscar and Helen (Anderson) Carlson.  She graduated from Sheyenne High School and attended Dakota Business College in Fargo, ND.
On June 30, 1947, Ida Phyllis married Roy Wahlstrom in Sheyenne where they lived during their 53 years of marriage.  Ida Phyllis was the bookkeeper for Wahlstrom Radio & TV and was very active in the activities in Sheyenne and at Grace Lutheran Church.
Ida Phyllis and her friend, Carol Rud, played guitar and sang together for many years as Sheyenne Country Girls.  She also enjoyed reading, cooking, gardening and spending time with family and friends.
In June of 2009, she became a resident at Bethany Retirement Living in Fargo, ND, where she enjoyed the activities and being near her family.
She is survived by one son, David Wahlstrom of Horace, ND; one daughter, Peggy (Keith) Malakowsky of Moorhead, MN; granddaughter, Amy (Matthew) Bahl; great grandson, Hunter Bahl and great granddaughter, Haley Bahl.
Ida Phyllis was preceded in death by her husband, Roy in 2001 and her parents and her sister, Lois (Bill) Walz.
Visitation: will be one hour prior to the Funeral Service at the church.
Funeral Service: will be held Tuesday, March 19, 2019, at 2:00PM in Grace Lutheran Church, Sheyenne, ND.
Burial: will be held at a later date at the Riverside Cemetery, Sheyenne, ND.
Condolences are reviewed by staff.