Evans Funeral Home
"Compassionate Funeral Service"
Carrington and New Rockford, North Dakota
701.652.3003 or 701.947.2911
Secondary Number ~ 701.650.9937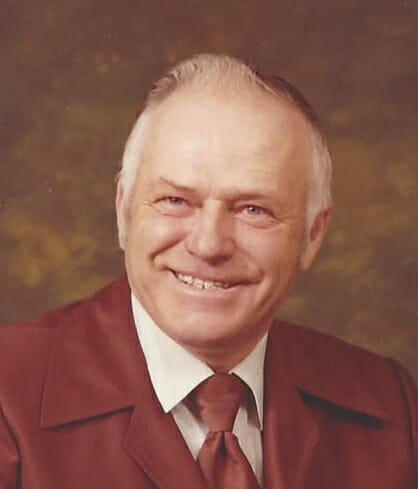 Richard Weisenburger was born November 11, 1925 in Tuttle, ND, the son of Peter and Helena (Rath) Weisenburger.
In 1932 Richard's family moved to a farm near New Rockford, ND.
On August 28, 1949 Richard was united in marriage to Vonnie (Fleming) at the Evangelical United Brethren Church in New Rockford. They lived and farmed in Rosefield Township. Richard brought Rural Water to the area.
Richard worked at the Carrington Irrigation Station for many years in addition to farming his land. He served as President on the New Rockford School board for many years and also on the Credit Union Board. He was very active in the United Methodist Church holding many different church offices over the years. He was a very faithful and active member of the church until its recent closure, upon which time he attended the Congregational Church of New Rockford.
He was an avid hunter and loved fishing. In his later years he took to golfing, which he also enjoyed.
Richard went to be with the Lord on February 8, 2019 at the Lutheran Home of the Good Shepherd in New Rockford, ND, at the age of 93.
He is survived by 6 children; Luann (Dennis) Rimmereid of New Rockford; Peter (Joy) Weisenburger of Clifton, Texas; Steve (Sharon) Weisenburger of New Rockford; Michael (Melanie Porter-Burke) Weisenburger of Laramie, Wyoming; Kenneth (Mary) Weisenburger of Mendota Heights, MN; Brenda (Wesley) Schumann of Dickinson, ND; 20 Grandchildren; 23 Great Grandchildren; and a sister, Agnes Stilwell, in California.
Richard was preceded in death by his parents; his wife Vonnie; three brothers, Bert, Albert and Ray; and five sisters, Lydia, Annie, Alvina, Emma, and Lorraine.
Visitation:  will be Monday from 12PM-7PM with a prayer service at 7PM all in the Evans Funeral Home, New Rockford, ND.
Funeral Service: will be held Tuesday, February 12, 2019, at 10:30AM in First Lutheran Church, New Rockford, ND.
Burial: will be held at the Prairie Home Cemetery, New Rockford, ND.
Condolences are reviewed by staff.