Evans Funeral Home
"Compassionate Funeral Service"
Carrington and New Rockford, North Dakota
701.652.3003 or 701.947.2911
Secondary Number ~ 701.650.9937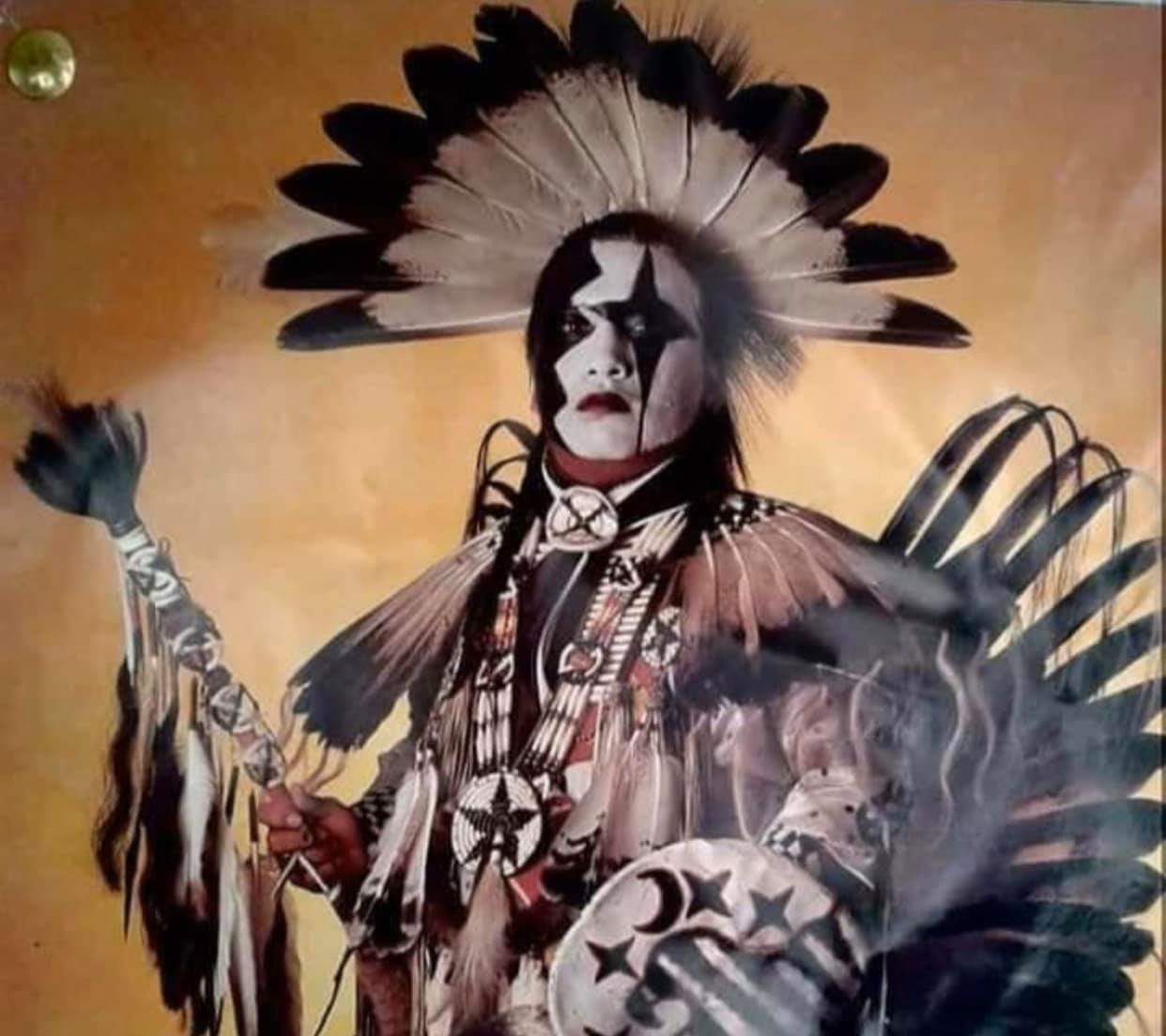 Timothy Lee White Eyes, Oyate Wayankapi Wicasa-(People Watch Him), 49 years old of the Omaha and Oglala Sioux Nations began his journey to Creator at Mercy Medical Center in Sioux City, IA on Monday, December 2, 2019. Tim known to many as, "White Eyes" was born December 26, 1969 in Winnebago NE to Patricia Mae White Eyes and Joe Blackbird Jr. He was the first born son.
Tim was of the Honga Clan of the Omaha people, as well as Eagle Clan from the Blackbird -Oglala people.
Tim's younger years were spent attending Wapheton Indian School, Riverside Indian School of Oklahoma and Flandreau Indian School, Flandreau SD.  Tim befriended many relatives throughout Indian country who became lifelong family for him.
During the years, many relatives provided guidance and teachings to Tim while growing up. One of the teachings was passing on the Traditional Style of dance. As it was told about Tim, at a very young age he would be found in the backyard dancing with tree branches tucked into his back as if to replicate beautiful spikes on a traditional style bustle. It was evident then the spirit of the Eagle was dancing through him. This would become the epitome of White Eyes.  The spiritual movement of his style of dance earned him numerous trophy championships, United Tribes International Powwow, Gathering of Nations Powwow, Schemitzun Green Corn Festival and Red Earth Festival to name a few. His dance provided blessings and healing to many places and many people throughout his life.
Tim's love and gift of dancing inevitably brought him around the drum. At the age of 16, Tim was singing with revered drum groups such as Red Nation, Ft. Peck Sioux, Eagle Tail, Stoney Park, Eagle Spirit, Rock Creek, High Noon and Northern Cree to name a few. He would go on singing and "setting up" with many many brothers to share his beautiful voice with the people to dance.  
Ceremony, spirituality and traditions naturally were a way of life for Tim. He was sent with these teachings from the Creator. His spiritual home was made at, Jackson Hole Sundance Grounds on the Spirit Lake Reservation alongside brother, Richard and all of his Sundance brothers and sisters, here is where he prayed for blessings for his family and his red nation people. His prayers were always for goodwill, for life, for his children and all of his relatives.
In 1986, Tim met Sharon Buffalo from the Cree people in Maskwacis, Alberta, Canada. Tim moved to Canada with Sharon and her four children, Kristi, Jared, Amber, and late Raven,  where he would reside for the next 24 years. Throughout this relationship, Tim and Sharon would welcome three children; Catherine Sage, Dwight and Shania Rose.
Tim most recently married Alene White Eyes from Rosalie, NE where he made his home.
Tim was a Craftsman, known for his bustles and quill work he designed and created many beautiful pieces of dance regalia still on the circuit today. His own traditional dance regalia was unique and "still" admired throughout Indian country.
Tim was adopted by many, many families and relatives from across Turtle Island. Mr. & Mrs. Steve Charging Eagle family, Red Scaffold SD notably was one family who took Tim in, cared for and loved him as their Hunka son, and brother, Valerie, Stephanie, Geraldine and late Tommy Charging Eagle were his adopted siblings. Rick & Ron Thomas families of Santee NE were also instrumental in Tim's teachings.
He acknowledged each of you every time your paths crossed. His spirit was always loving, caring and nurturing to everyone. Oyate Wayankapi Wicasa-(People Watch Him) was a true relative.  We will miss you forever. Until we meet again!  Now, It is time for you to fly War Eagle. "It is time for Drum roll call, and Grand Entry in the upper Room!"
Tim is survived by wife: Alene White Eyes and her children and grandson Dancing Elk.
Tim's children: Marvin Red Elk White Eyes, Catherine Sage White Eyes, Dwight White Buffalo White Eyes, Shania Rose White Eyes, Kristi Buffalo, Jarred Buffalo, Amber Buffalo and late Raven Buffalo. Grandsons: Wakinyan, Aiden & Brando             Grandaughters: Eatosh & Brianna, Skylar, TeCori
Brothers and Sisters: Travis Blackbird, Sinclair Blackbird, the late Todd Blackbird, John McCauley, Michael Saul Jr., Terri "Tutu" Blackbird, Hailey McCauley, McKenzie McCauley, Richard Street, Yahsti Perkins Killer and Kristie White Eyes.
Uncles: Mark White Eyes, Paul White Eyes, Peter White Eyes & Alfred White Eyes, Orville Blackbird, Curtis Blackbird & Darryl Blackbird
Aunties: Linda White Eyes, Faith White Eyes, Irene White Eyes, Suzette Saunsoci, Betty Blackbird & Beverly Blackbird 
Grandfather: Arlington Saunsoci
Active Pallbearers: Ted Noon, Ron Noon, Joe Syrette, Kasen Street, Hunter Street, Jonah Jackson, Chaunce Sandness, Brand White Eyes & Arthur Schrock
Two night wake was held at Walt Hill Fire Department, Walt Hill NE, December 3rd & 4th, 2019. Traditional Omaha Services conducted by Kenerd Parker on December 5th, 2019.
One night wake at St. Michael Rec Center, St. Michael ND at 4pm, December 6th, 2019.  Traditional Funeral Services, Saturday, December 7, 2019 at St. Michael Rec Center 10 am. Wolakota Services conducted by Richard Street. Burial will be in the Jackson Hole Cemetery, Elk Dreamer Sundance Grounds. Unci Maka.
Oyate Wayankapi Wicasa-(People Watch Him) Oyate Wayankapi Wicasa-(People Watch Him)
Oyate Wayankapi Wicasa-(People Watch Him)  Oyate Wayankapi Wicasa-(People Watch Him)
Wake Service will begin Friday, December 6, 2019 at 4:00PM, in the St. Michael Recreation Center, St. Michael, ND.
Friends wishing to join the procession from New Rockford to St. Michael may gather on the St. Jerome's road, prior to 3:30PM
Funeral Service will be held Saturday, December 7, 2019, at 10:00AM in the St. Michael Recreation Center, St. Michael, ND.
Burial will be held at Jackson Hole Cemetery, rural Sheyenne, ND.
Condolences are reviewed by staff.