Evans Funeral Home
"Compassionate Funeral Service"
Carrington and New Rockford, North Dakota
701.652.3003 or 701.947.2911
Secondary Number ~ 701.650.9937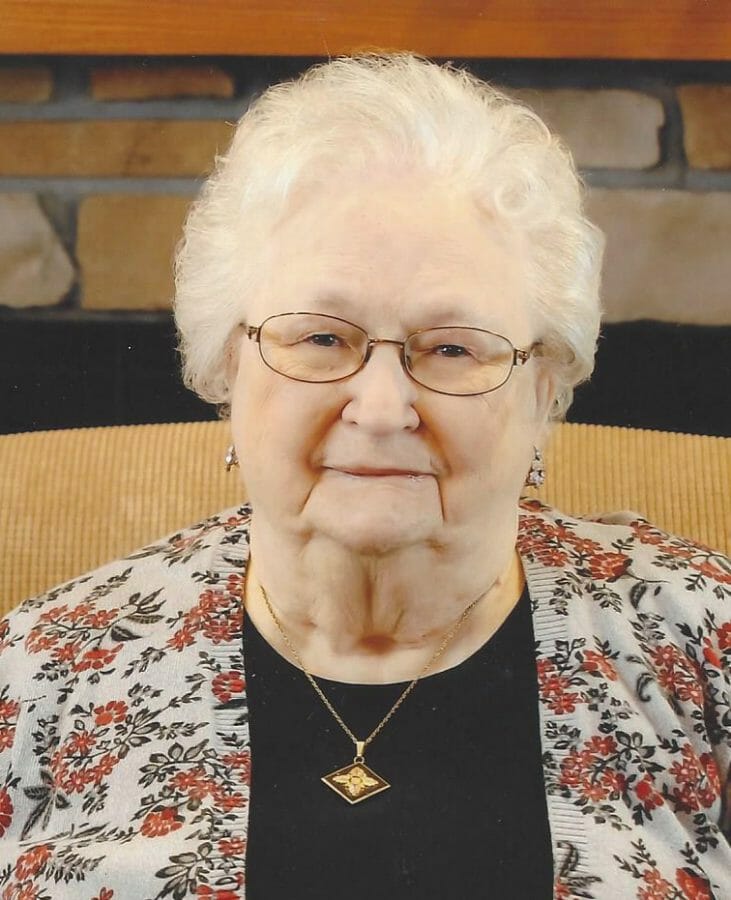 Donna Lou Gale (Hahn) Wishart, age 83, died Thursday, October 11, 2018 at the Lutheran Home of the Good Shepherd.
Donna was born June 28, 1935 in Rugby, ND.  She graduated Valedictorian from St. James Academy in 1953.  Donna married John Wishart on January 4, 1954 in Minnewaukan, ND.  She was the first baby born with lip cancer in North Dakota.  She started working as a CNA at City Hospital, New Rockford when she was 13 and held many positions in her 15 years at City Hospital.  Donna and John owned the Ice Cream Shop and Rockford Dairy in New Rockford.  Donna was a Den Mother, taught CCD, volunteered with the New Rockford Ambulance and a sales rep for Creative Circle.  In June of 1985, John and Donna went out to the east coast as a couple to work for Mr. Wells at Southbridge, MA for one year, Mrs. Sears for 6 1/2 years in Maryland and Mrs. Lloyd for 7 1/2 years in PA. They returned to ND upon retirement.  She entered the nursing home in 2014.
Donna enjoyed her children, grandchildren and great grandchildren. She also enjoyed working on puzzles, playing three to thirteen and going to bingo. She was always ready to play a game of cards. Donna embroidered many dish towels and calendar towels.  She liked knitting and crocheting also.
Donna was a member of the Red Hat Ladies, St. John's Alter Society, and the Stitch and Bitch Club. She was known as the "Shoe Lady" due to her collection of over 1,000 collectible shoes.
She was preceded in death by parents, Dollie and Everett Hahn, in laws, Harris and Dru Wishart, husband, John, two brothers, Everett Jr. and Stanley, sister, Marjorie and one step great grandson, Gavyn.
Donna is survived by sisters, Janice (Paul Reis) of New Rockford, ND, Lettie Annell of Bedford, TX; sister in law, Patricia Hahn of Kingman, AZ; three daughters, Nancy (George) Ritzke of New Rockford, ND, Karen (Rogar) Winkles of St. Francisville, IL and Jacolyn (Dave) Fleury of Attleboro, MA; four sons, David (Barbara) of Bensenville, IL, Robert (Jamie) of Rolla, ND, Gregory (Lori) of Crosby, ND and Timothy (Marissa) of New Rockford, ND; 14 Grandchildren; 29 Great Grandchildren and 2 Great Great Grandchildren.
Memorials are preferred.
Visitation will be Monday, October 15, 2018 from 9:00AM – 5:00PM at Evans Funeral Home in New Rockford, followed by a Rosary at 6:45PM and a Prayer Service at 7:00PM both at St. John's Catholic Church, New Rockford.
Mass of Christian Burial will be held Tuesday, October 16, 2018 at 10:30AM at St. John's Catholic Church, New Rockford.
Burial will be at St. John's Catholic Cemetery, New Rockford.
Condolences are reviewed by staff.