Evans Funeral Home
"Compassionate Funeral Service"
Carrington and New Rockford, North Dakota
701.652.3003 or 701.947.2911
Secondary Number ~ 701.650.9937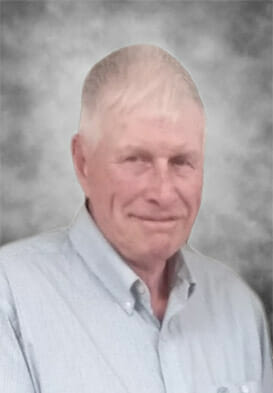 Gene Allen Woolley, age 87, of Oberon, North Dakota passed away on January 10, 2022 at the family farmstead near Oberon.  Cremation has occurred. A service is planned for spring.  Gene was born on July 15, 1934 at the family farmstead.  He was the third child, and the only son of Dorothy (Dorothea Luvina Ingwaldson) and Richard William Woolley.
Gene attended elementary school in a rural one room school, along with his sisters.  In the warmer months they would ride horses to school.  In the winter months they would be pulled by horse in a covered sled.  They used to put heated rocks in the sled to keep their feet warm.  Gene then attended Oberon High School where he lettered in basketball.  He graduated from high school in 1952.
During his adult life Gene partnered with his father on the farm/ranch, and continued to live and work on the farm after his father's passing. Gene was very mechanically inclined and loved to work on machinery.  He also did some blacksmithing, had a log sawmill, and tinkered with "Hit & Miss" single cylinder engines. He had a license to work on show and antique steam engines.  He enjoyed driving his Rumely "Oil Pull" tractor and steam engines in parades.  He also did some hunting, trapping, fishing, and participated in trail rides.  A special treat for Gene was going out to eat with his lifelong buddies in the Oberon area.
Gene had an interest in everything machinery and completed a course in Machining at UND-Lake Region college.  His reading included Antique Power, Home Shop Machinist, Engineers & Engines, Gas Engine, Iron-Men (steam tractors), and Steam Traction magazines.  His diverse reading also included The Draft Horse Journal, Chip & Chats (wood carving), Western Horseman, and even the Smithsonian (in Washington, DC) magazines. He also loved to ride, train, and drive horses. He was a true modern cowboy who was comfortable in both the old and new times.
Gene's nephew Gary said "I go up to the farm every fall to visit Gene and to hunt on his land.  I really enjoyed my time with him".  His nephew Brian said "Gene and Grandpa were my mentors.  I learned my work ethic from them".  Lori, Gene's niece, said "The farm is where I developed my love for horses.  Gene taught me how to ride and I was hooked. His love of nature and animals, both domestic and wild was inspiring. His humor was legendary as well." Gene also liked to give rides in his modified, late 1930's Model A car (which was converted to a truck).  Gene's neighbor Donna Grann said "Gene was quite the local historian".  When they were out fixing fences Gene would tell her about local history.  She said "You would never hear the same story twice".
Gene is survived by his sisters Betty Miller of Billings, Montana and Carol Haskin of Fargo, North Dakota; his nieces and nephews, Jeanne (Tony) Morss, Lori (Barry) Jaeger, Kathy (Mitch) Asbeck, Karen (David) Muggli, and Lowell (Jackie) Haskin, Gary (Darlene) Haskin, and Brian (Susan) Haskin.  Gene was preceded in death by his parents Richard and Dorothy Woolley, along with Betty's husband, Virgil Miller, and Carol's husband Gerald (Jerry) Haskin. Gene was a bachelor his entire life.
A special thank you to Evans Funeral Home for their professional service, the Benson County Press for publishing Gene's obituary, and to Gene's neighbors, the Grann family, who assisted him on the farm in his later years.
In lieu of flowers, please send memorials to the Central North Dakota Steam Thresher's Reunion, PO Box 375, New Rockford, ND 58356.
Gene's Visitation will be Saturday, April 23, 2022, from 12:00PM – 1:00PM followed by a Funeral Service at 1:00PM all at Calvary Lutheran Church, Oberon, ND.
His Burial will be at the Hillside Cemetery, Oberon, ND.
Condolences are reviewed by staff.