Evans Funeral Home
"Compassionate Funeral Service"
Carrington and New Rockford, North Dakota
701.652.3003 or 701.947.2911
Secondary Number ~ 701.650.9937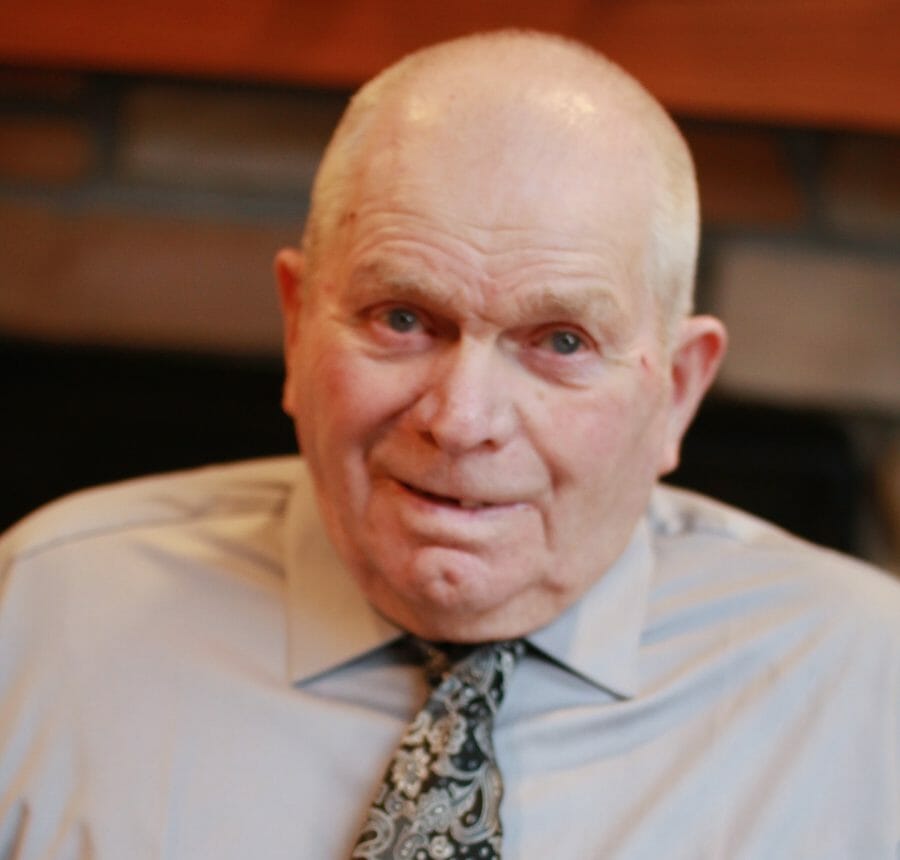 Merlin Earl Miller (Speed), age 90, passed away peacefully on Sunday, March 31, 2019 at the Lutheran Home of the Good Shepherd in New Rockford, ND.
Merlin Miller was born September 17, 1928 in Nordmore Township, Foster County, to August and Emma (Gussiaas). He was the first grandchild on the Gussiaas side of the family. He attended Nordmore School #4 until the 8th grade. His passion was farming and once out of school his time and dedication went into farming /ranching. On June 8, 1968, he was united in marriage to Joyce Miller (Reimers) at Grace Lutheran Church, Carrington, ND. From this union, he gained an instant family with Bradley and Lori and in years to follow adopted them to make them his own.
Merlin was the President of the Nordmore Township for over twenty years. He also served on the Kvernes Church Board and Cemetery Board and was the caretaker/sexton for the cemetery. He was an active member of the ND Stockmen's Association and Dakota Central Telephone Cooperative Association Bowling League. He raised Purebred Hereford cattle and had pigs and chickens while Bradley and Lori were growing up. He was involved in 4-H and had a winning steer make it all the way to Denver, CO. He enjoyed hunting and fishing in his younger years and after retiring became very involved in Ag Shows throughout North Dakota. He was involved in the Central North Dakota Steam Threshers from 2000-2012. He was employed many years by the Eddy County Soil Conservation and worked for his cousins doing field work. He thoroughly enjoyed shooting gophers with the grandsons and taking them out to the Schoolhouse Café for lunch. You rarely found Merlin at home as he was out cruising in his beloved pickup.
Merlin is survived by his children, Bradley (Andrea) Miller, Bismarck, ND and Lori (Tim) Partlow, Carrington, ND; five grandsons, Phillip Partlow, Carrington, ND, Samuel (Brianne) Partlow, Carrington, ND, William (fiancée Chelsea) Partlow, Carrington, ND, Colin Miller, Fargo, ND, and Brady (fiancée Chantel) Miller, Sioux Falls, SD; two great-grandchildren, Rylee and August Partlow, Carrington, ND; brothers, James Miller, Bismarck, ND, Wes Miller, Carrington, ND; sisters, Shirley Kivley, McHenry, IL, Gladys (John) Kautzman, Fargo, ND, Diane Marsh, St. Croix Falls, WI, and Joyce Miller, Scottsdale, AZ.
He is preceded in death by his parents, August and Emma; wife, Joyce; sisters, Alice Campbell and Betty Shannon; brother, Wayne Miller; sisters-in-law, Bonnie Miller and Patti Miller; brother-in-law, Charles Marsh; and many aunts, uncles, and cousins.  
In lieu of flowers please send memorials to Kvernes Lutheran Church.
Visitation will be Friday, 5:00-7:00PM followed by a Prayer Service at 7:00PM all at Evans Funeral Home, Carrington.
Funeral Service will be held Saturday, April 6, 2019 at 2:00PM at Kvernes Lutheran Church, rural Carrington.
Burial will be at the Kvernes Lutheran Cemetery.
Condolences are reviewed by staff.